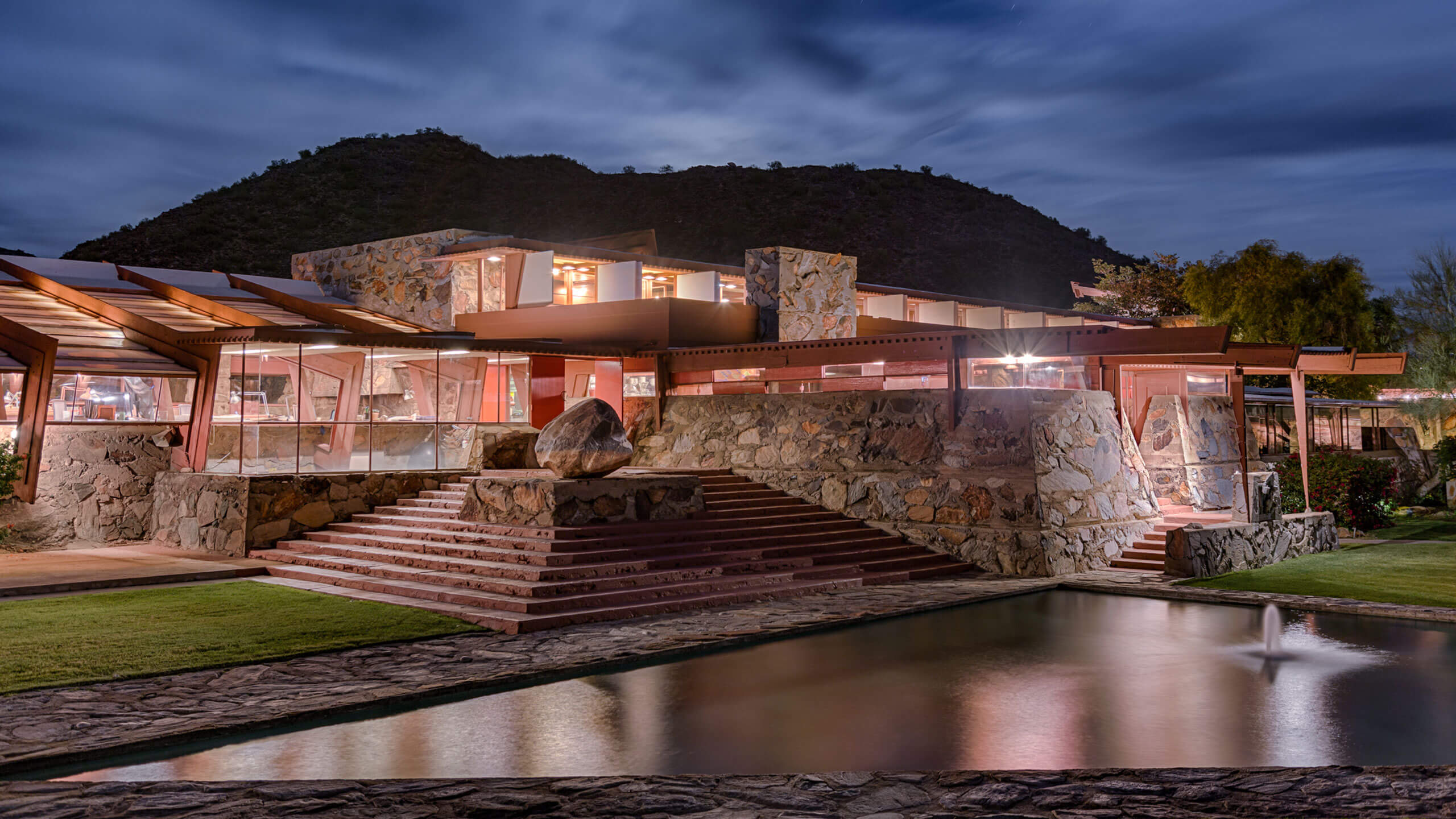 The Frank Lloyd Wright 500 Project with Andrew Pielage
Recently I attended a photography workshop at Taliesin, the home of Frank Lloyd Wright, in Spring Green, WI. The instructor was Andrew Pielage, an architectural and travel photographer who is on a mission to photograph all of Frank Lloyd Wright's remaining designs.
As a lifelong Wright fan, I was curious and interested in Andrew's project. I've been following his work for a few years, so having the chance to learn from him and learn more about his story was something I wanted to share. There will be more on my personal experience in another article. Stay tuned.
How did you start the Frank Lloyd Wright project?
The beginning of the project was a complete surprise for me. Sounds funny to say now. I call the project the #500fllwproject in ode to Frank Lloyd Wright's 532 designs.
In 2011, before the project, I photographed my first Wright design. It was Taliesin West about 30 minutes from my house. Like most people, it only takes one visit to get addicted to Wright. Soon I was taking photos of other Wright projects in my area, such as the David Wright House, the Grady Gammage Theater and the Jorgine Boomer House.
Shortly after, my local NPR radio station contacted me and asked if I wanted to come on the air to talk about photographing local Wright architecture. The final question host Lauren Gilger asked was, "So how many Wright designs do you want to photograph?" Now you know there is only one answer to this question. I said, "Well, all of them." Little did I know that my four word answer would change my life forever and truly set a clear path in my very first career as a photographer.
Since then, I have my eye on the prize.
How many of the 532 Wright properties have you photographed?
Well, before you answer that question, remember, it's as much about the journey as it is the destination.
I have currently photographed 114 Wright models across the country. Including five in Wisconsin a few weeks ago. I want to mention that this is not an in-car photo project, a peek over the fence. To be included in the #500fllwproject, the interior and exterior of the design must be photographed. With permission of course.
It's not necessarily a project for me. It's so we can all have documented photos of Wright's design in the 2000s. Throwback to "historic" black and white images of greats like Pedro Guerrero, Ezra Stoller, Julius Schulman. Maybe these images I'm capturing will help us study Wright 50 to 100 years from now.
Typically, how long does it take to carefully photograph a property?
Good question and it varies a lot with this project.
Wright's portfolio is made up primarily of private homes. But, he also designed museums, gas stations, theaters, office buildings, synagogues, schools and the list goes on. In an ideal world, I want to photograph the design in the best light. I ask to be there as close to sunrise as possible for a few hours, then come back a few hours before sunset.
In big projects like the Marin County Civic Center or the Taliesin, I go back the next day and start over. Small private designs tend to take less time. I'm only there for a few hours either in the morning or late afternoon depending on where the sun rises and sets in relation to the house. The only exception to this is Fallingwater, where I was artist-in-residence for thirty days. It was a breathtaking experience.
Can you tell us a bit about the approval process to go ahead with the project and gain access to Wright properties?
Every image I took for this project is taken with permission. This is a project that excites me as a freelance freelance photographer. I am fortunate to have the support of the Frank Lloyd Wright Foundation, the Frank Lloyd Wright Building Conservancy, Taliesin Preservation and many others. Access, by far, was the most difficult part of the project, especially with its private homes.
Once I get or research who the owners are, I send an email introducing myself and the project. Then I ask them if they would like to be part of the project and we go from there. Getting into one helps me get into the next and it just sort of snowballs from there. It is really all the owners who make this project possible. I am so grateful to everyone in the Wright community who has supported me and the project.
Can you explain the importance of using flip lenses for this project (or any architectural photography)
I truly believe in having the right tools for the job. Maybe it comes from working on home improvement projects with my dad as a kid, but it's also true in photography. You want to be a wildlife photographer, you need a big zoom. Sports photographer, you're going to need a quick drink. Portrait photographer, you need a super sharp lens in that 50-85mm range.
Each genre of photography has lenses that match the subject or use and architectural photography is no different. I need my lines and walls to be straight and true. No architect wants to see their building fall over, I would never be hired again. This is where the tilt and perspective shift lens comes in. Instead of tilting my camera up and creating converging lines to reach the top of a building or ceiling, with a tilt-shift lens, I can just move the lens and my camera sensor stays parallel to my subject. In turn, my lines and my walls are straight and true. You can make minor changes in your editing software, but as soon as you do, your image starts to lose quality as the software twists the image to fix it.
Like everything in photography, you want to get as close to the camera as possible.
What did you learn about photography doing this 500 Frank Lloyd Wright project?
Do I have the right to say everything?
I constantly challenge myself with every new Wright design I photograph. Sometimes experiments work and sometimes they don't and that's the point. But I think what I learn the most has nothing to do with the photography aspect. These are all the other details that contribute to a successful shoot and a positive experience for the owners and myself. It means learning to spot a spot 1,000 miles away so I can be more efficient with my shot list or "the light timeline" as I like to say. It's learning to be a good, consistent communicator with the client before I arrive to make them as comfortable as possible with the shoot. Remember most of these projects are private homes so confidentiality and trust plays a huge role in this and is something I take very seriously.
The further I get into my photography career, the more I realize that it takes more than just fancy images to be a long-term freelance photographer.
You also run workshops for children, what do you find most rewarding about these workshops?
Yes, in fact, the first workshops I taught were to children aged 12-18 at Taliesin West. I still do them to this day. For me, one of the most rewarding experiences of these workshops is when students discover how to transfer art into their heads through a camera and onto an image. At that age, I really don't push photography on them or their parents. I push them to keep exploring their creative path. Whether painting, drawing, design or photography. And when I see an idea they had or an inspiration to take a photo and they're happy with the result, that's what's most rewarding for me.
Children are the future of our arts, so I give them my all and try to teach in a way that they are better than me.
What is one thing you want students of all ages to take away from your workshops?
Should I choose just one? Well, I will go with the creative and technical tools to solve any problems or challenges they encounter in their photography.
Everyone is a great manual photographer until they encounter a problem with the light or the subject, then what happens? Photography isn't easy and it's hard to teach photographers everything they need in the real world. I focus on the fundamentals of the creative and technical aspects of photography. The proven skills that not only allow you to create beautiful photos, but also troubleshoot in-camera or post-processing to achieve the results you want. To be a successful photographer, you must be able to solve the problems you encounter on the spot. I face challenges with each shoot.
Would you recommend other photographers find a passion project to work on?
Absolutely, for two reasons.
First, you need a subject that you can experiment with to learn, grow, and create a consistent look and feel in your images. Personal projects, where you are not judged or reviewed by a client, are a great way to do this.
Second, I would like to tell you that I am inspired every day, but that is just not the case for me. It's with me most days but certainly not all. Personal projects are a great way to kick-start your creativity because it's a subject you've chosen to draw inspiration from.
You don't need to fly millions of miles to a stunning location to get started, find something in your area. That's exactly what I did with the #500fllwproject.
As most photographers want to know, what equipment do you use? Do you have a benchmark that you use?
Yes, I still have the following tools in my GuraGear package. My cameras are the Canon 5DS and the backup Canon 5dmkIII. My lenses are both the Canon 17mm and 24mm Tilt Shifts, the Canon 24-105mm walk around, the Canon nifty-fifty and my Canon 70-200mm 2.8. I would say I use my 5ds with the 17mm or 24-105mm 90% of the time.
It's not about having all the goals, it's about having the right goals for the job.
Thanks to Andrew for his time and knowledge of photography and Frank Lloyd Wright. Personally, I can't wait to attend another of his workshops. You can follow Andrew's project on Instagram and see more of his work on his website.