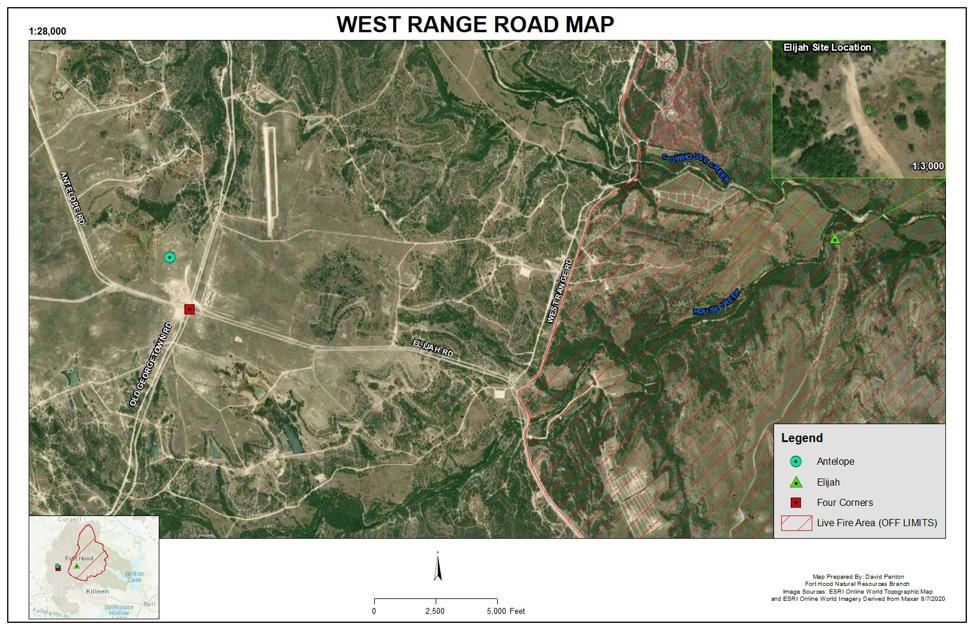 Texas Archeology Month | Editorial
Recently my colleague, archaeologist Sunny Wood, and I did some fieldwork and discussed local archeology. As we walked along dusty trails and cobblestone roads, I realized that soon all of Texas would be celebrating its local archeology.
October is Texas Archeology Month and a great time to celebrate at a variety of events. The NCRMB hosts a Fort Hood Archeology Open House in Building 1938, adjacent to the Rod and Gun Club Loop, adjacent to the Sportsmen's Center, monthly, 8 a.m. to 4 p.m., Monday through Friday , with the exception of Columbus Day, October 11.
Old roads with old names
Elijah and Old Georgetown Roads intersect on the West Range at the site known today to locals as the "Fours Corners". The Elijah Road was named after the ancient Elijah community located at the confluence of House and Cowhouse creeks in Live Fire. Old Georgetown Road was named after the old main transportation route from Fort Gates to today's Georgetown, one of the fastest growing cities in Texas, and is home to some employees who make the commute from 80 km. I suspected that these roads were probably named after historical features, but I had no idea that Elijah (1903-1942) was a hamlet-sized community with a church, gin, post office, and smithy. . But curiously no school or mill. After further discussion, I learned that Antelope Road was also named after the ancient community, Antelope (1850-1942), located in the vast open prairies of Fort Hood and many associated springs just north of Four Corners. The antelope community, on the other hand, had a school and a mill. I wonder if Elijah's children went to school in Antelope, or maybe they went east to Palo Alto (1852-1942).
One thing I remembered from my outing and the discussion that followed was that each community had various amenities – church, tabernacle, post office, cotton gin, and school – some only had one. or two and others all. That is, not all of them had them in, say, 1900, they might have all or more in 1920, and so on. The ebb and flow of communities was the product of their time, of the lives of those who lived here before us. My imagination runs wild just thinking how hard it must have been to survive here let alone grow cotton in this rugged landscape before the Camp Hood land was acquired in 1942. Every ancient community is documented in Bldg. 1938, and there are 41.
More Fort Hood Culture Info: Fun Cultural Facts Sneak Peek:
• Grazing wildlife once roamed this area and included mammoths, mastodons and bison. Today, only fossil evidence remains of these great beasts. Humans have replaced wild grazers with domestic livestock.
• Many arrowheads are actually spearheads. Spears are larger and heavier than smaller arrows, but both were used a long time ago to take down the same species and individuals of large grazers for food, shelter, and clothing.
• In the hills east of the Elijah MOUT (Urban Military Operations) facility, one of the first WWII training facilities was built at Fort Hood. Built like modern MOUT sites, it was a vintage replica of a German city. There isn't much left except a few old photographs and a few blocks of limestone. A group of blocks testifies to its construction "CO A 374th Engineers 194?
• During the Cold War, the Department of Energy and the Department of Defense originally built three nuclear storage sites (NSS Able, Baker and Charlie). The NSS Baker site was built at Seven Mile Mountain, which was originally part of the Killeen base. Now disused, the Baker site consists of two tunnels used for army testing and training.
To learn more, we encourage you to visit their lab or call Cultural Resources 254-287-2633 or 254-288-0427 to schedule a visit.
COVID-19 remains a learning health and safety situation as it goes, so some in-person opportunities may be restricted in the Lone Star State. Know before you go.
Masking required inside the DPW archeology laboratory, building. 1938.