Photographer discovers otherworldly sand sculptures created by the wind
Photographer Joshua Newicki encountered a unique natural phenomenon that had formed along the coast of Lake Michigan – temporary sand formations that look like rock structures also known as hoodoos.
Nowicki's experience lies in anthropology first and photography second. Having worked for several different museums, he was once responsible for updating the website and graphic design of one of them. He gained access to a DSLR and began taking promotional photos for the organization, marking his first entry into the field of photography.
A region that inspires landscape photographers
Nowicki eventually moved to southwestern Michigan, a popular destination for those who love sandy beaches and green parks. Not surprisingly, the location lent itself to nature and landscape photography which Newicki began to make the most of, albeit merely for his personal pleasure at first.
He posted his photos on Facebook that showcased the natural beauty of the area, and soon others started sharing his images. His father wanted to encourage his hobby and bought a DSLR as a gift, although Newicki was initially hesitant to accept the gesture. The camera however ignited his passion and he soon left museum work to devote himself to photography and now covers a range of different genres.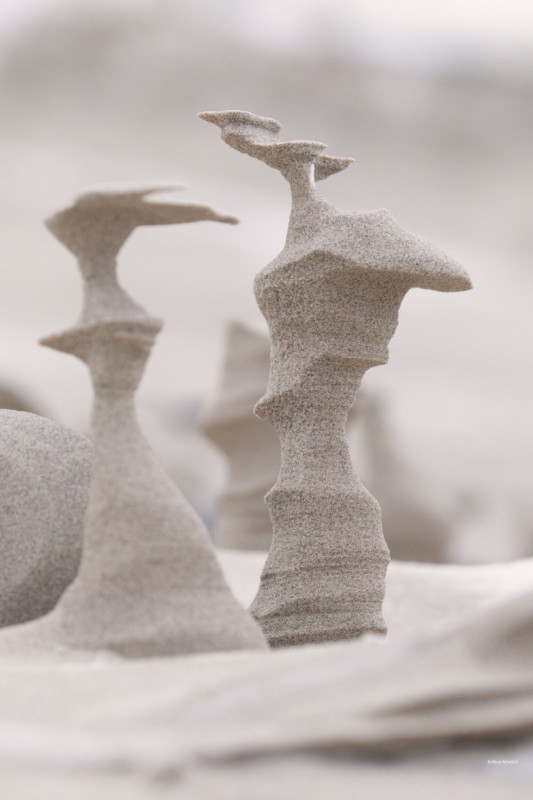 Nowicki goes out almost daily to take photos of Lake Michigan, a prominent feature of the region. While filming at Tiscornia Park Beach in St. Joseph, he came across some interesting sand formations. Although he had photographed them in the past, this time his find was impressive – the sculptures were larger than usual, some around 15 inches tall, and also had a greater variety of shapes.
The series he created was originally spotted by Colossal and looks like a scene from another planet.
Frozen sand and wind create unique formations
For these shapes to form, the region needs several days of strong winds, cold temperatures and wet sand. It's a rare event, but it can happen at any time of the year, which makes it even harder to predict. However, the only time the formations get larger than a few inches is when the sand has frozen.
Anyone wanting to capture photos of the phenomenon should be quick because sand statues don't last very long – only a few days at most.
"The wind completely erodes them or knocks them down, if the temperature rises above freezing they crumble, and often in winter they become covered in drifting snow," Nowicki says. PetaPixel. "I really appreciate how fleeting they are; you have to be there at the right time to capture them with a well-defined shape.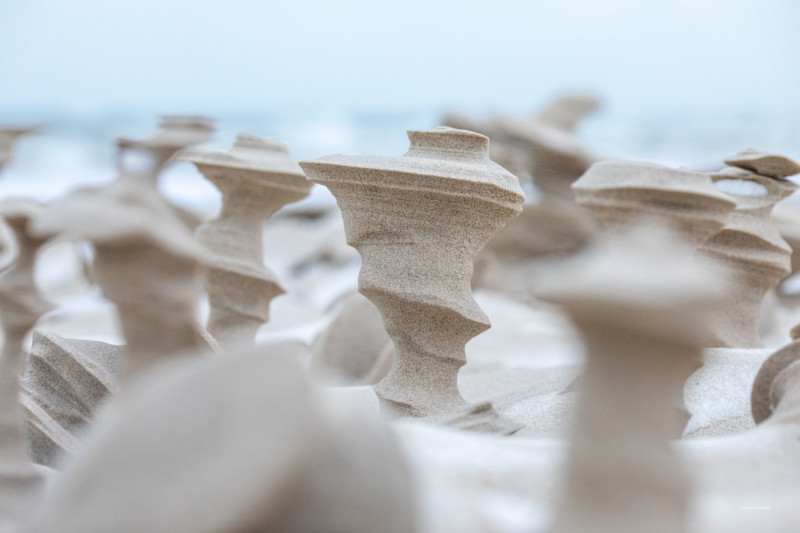 Nowicki used a Canon EOS 5D Mark IV with a variety of lentils — Sigma 20mm f/1.8, Canon EF 50mm f/1.8, and Canon EF 135mm f/2 — to capture different compositions before the sand formations completely disappear.
"To photograph them, I got down to the ground to better see their shape and also to help detach them from the rest of the sand," he says. "I didn't have to worry about knocking them over because they were in patches of 30 or more and there was plenty of space between the groups."
"I was delighted to find a group of them in a place where I could photograph both them and the lighthouse. Including the lighthouse in the photos revealed their location and in one day there were a lot of people at the beach photographing them. It's been amazing how popular they've become. I've had a lot of inquiries asking if they're still there. Sadly, they've mostly fallen apart.
More of Nowicki's work can be found on his website and PageInstagram.
---
Picture credits: Photos by Joshua Newicki.