kois associate architects designs the delta restaurant as a multi-sensory experience
the delta restaurant stimulates the collective memory of customers
the associated architects of kois have designed 'delta', a refined contemporary restaurant that offers a multisensory experience to visitors. the project is located in the stavros niarchos foundation (SNFCC) cultural center in athens, greece – one of the most important cultural complexes in the country, designed by renzo piano (see our previous article here). following the same aesthetic and artistic scene, the design team sought to awaken the collective memory of the guests, subconsciously generating a sense of euphoria and familiarity upon entry.
"The restaurant introduces a whole new approach to Greek standards", as stelios kois, founder of the Athens-based studio, told designboom in a previous interview.all images courtesy of the associated architects kois
expressing the cultural diversity of modern Greece
the design of the restaurant was undertaken by the winner studio kois associated architects, expressing the cultural diversity of modern Greece through the creation of atmospheres referring to the cultural identity of the country.
avoiding the use of historical motifs or objects, they focused on archetypal features and narratives, emphasizing the experience of enigmatic Greek myth and identity. the space uses a new interpretation based on the human scale, in an attempt to provide an intimate feeling to visitors.
'we saw the programmatic articulation as an opportunity to create a complex spatial realization. we did not compartmentalize the space; instead, we opted for a hierarchical allocation of functions, creating elevation differentiations that form a topological landscape in space. we wanted the visitor to appropriate the spatiality through an uninterrupted gaze. the challenge was through architecture to achieve a democratic division of program, space and view, without compromising the privacy of the dinner, ' mentioned the team.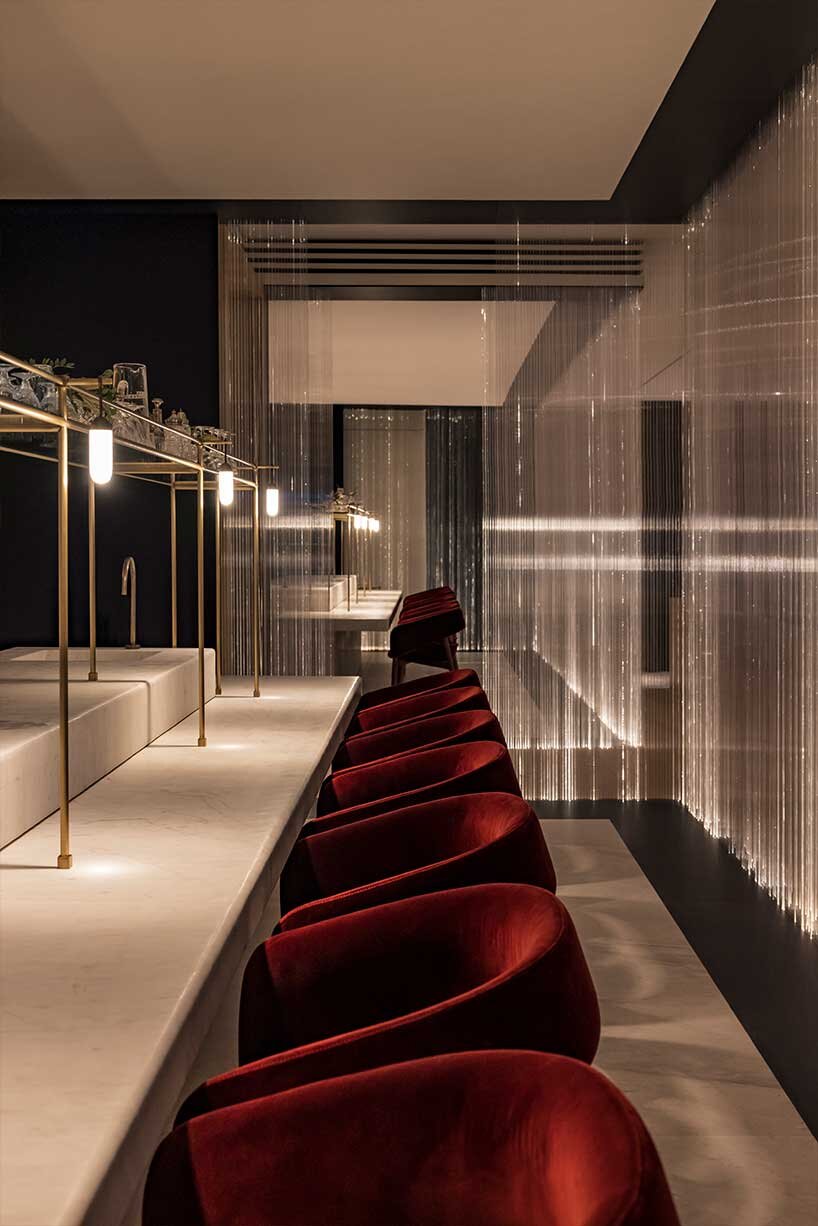 a sculptural bar as a centerpiece
raw materials improve authenticity and durability of the project: wood, metal and stone create a soft visual connection that welcomes the visitor, referring to the paradigms of Greek architectural modernism. upon entering the room, the guest faces the mosaic floor made of large fragments of crystalline marble. a iconic sculptural bar – created by sculptors Voukenas and Petrides – stands as a centerpiece, awakening the visual and tactile senses. its uneven curved body is characterized by its splendor, with continuous dynamic movement and a soft inner glow. wandering further into the place, the guest will encounter the spacious kitchen area, enclosed in a translucent volume where changes in light intensity and temperature generate a lively but calming atmosphere.
"Experiential interchangeability is a very important concept for us. we envisioned the programmatic articulation as a mosaic of experiences that take place at different spatial fragments. '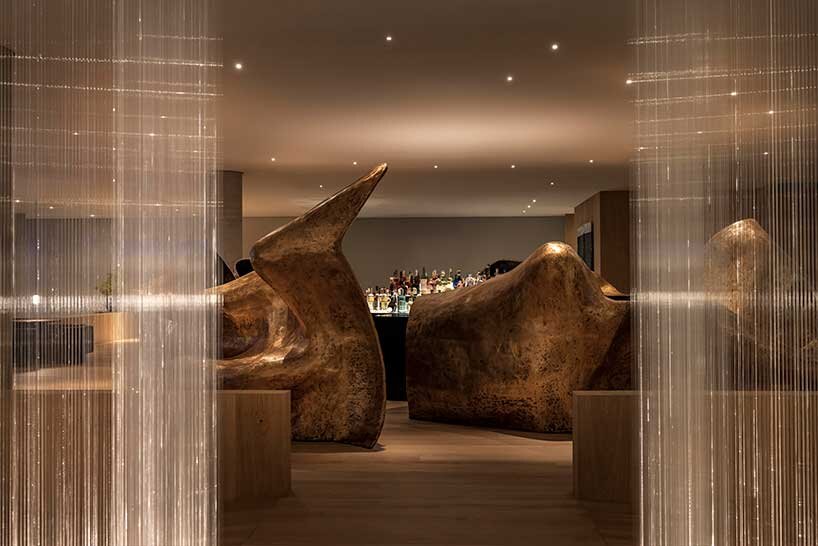 continuous dynamic movement
the project merges a gastronomic experience with a contemporary social ritual. functioning as a cultural pole, delta collaborates with artists and integrates their works into the restaurant venue, while organizing educational programs, workshops and activities like wine tasting. "We saw the restaurant not only as a place for social gathering and entertainment, but also as a platform for democratic experience where everyone also enjoys the ritual of dinner."