KKAA TYAA tops concrete "house of joy" with warm wooden roof
A WEEKEND RETREAT ALONG THE COAST OF JAPAN
Japanese KKAA YTAA architects complete this compact weekend lodging nicknamed "House of Joy" in Ise-Shima National Park. The surrounding coastal area includes private homes scattered irregularly along winding roads, overlooking the sea. The team notes: 'It is not a bad place for the owner who wants to have a relaxing time in a place rich in nature with a view of the sea, but I felt uneasiness in this messy urban landscape that suddenly appeared in the wild nature from the national park.'
images © Norihito Yamauchi
the warm interiors of the kkaa ytaa stone house
Led by architects Kei Kitano and Takanobu Yagi, the design team at KKAA YTAA celebrates views of the natural surroundings, opening up the airy interiors with floor-to-ceiling windows. Located in a coastal area of ​​central Japan, the land borders a high cliff that drops nearly 100 feet to the sea.
The two-story weekend home takes shape with a strong coastal-facing presence and is built with concrete blocks. The house is almost entirely built with these exposed stone blocks, giving an austere identity to the exterior. Inside, bare concrete walls are complemented by warm wood finishes along the floor, furniture and cabinetry, as well as a roof revealing its expressive plywood structure.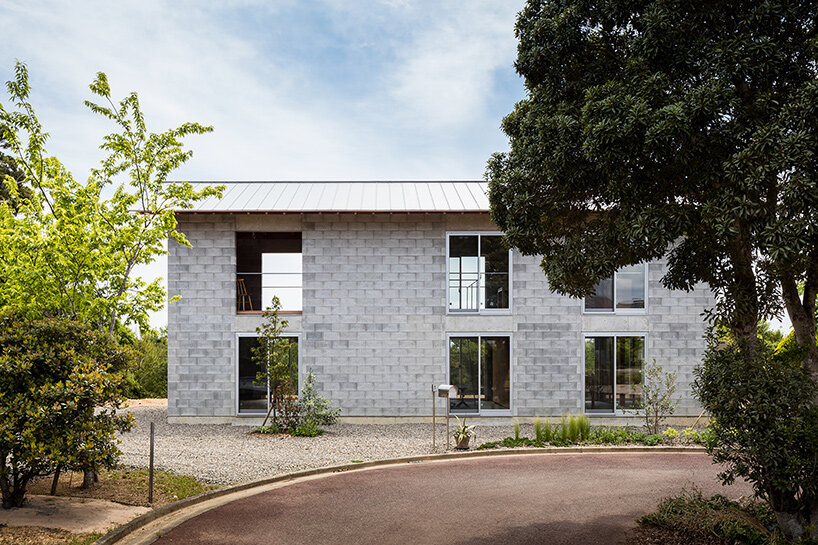 KKAA YTAA architects describe the design of the House of Joy: "Initially, I thought of ignoring this urban landscape and designing a bespoke product that matches the individuality of the owner. However, in the end, we adopted a universal type of house, rectangle and two floors.
'It's also because the concrete block that gives a feeling of deja vu is used and the degree of design freedom is limited according to the standard dimensions of 200 x 400. It seemed natural on this site to have some elements which resemble standard, mass-produced housings.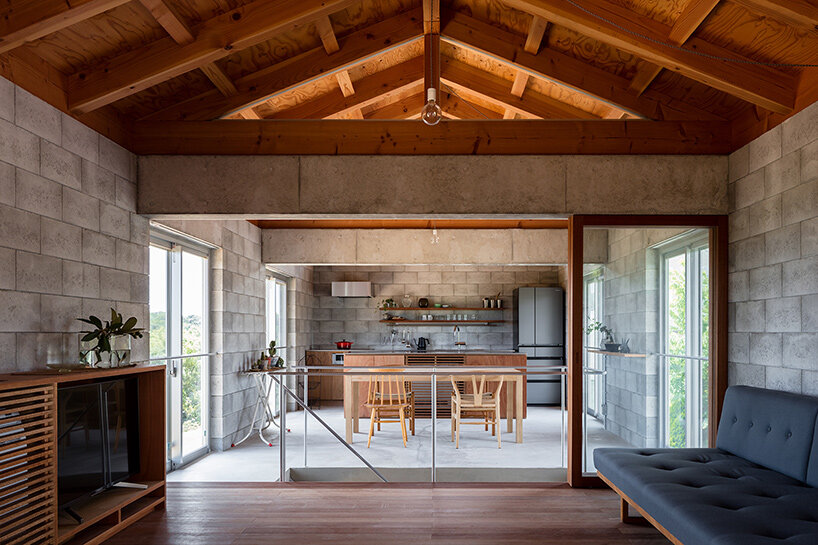 The team continues: 'The emphasis on design was to harmonize and coexist with the elements of antinomy that architecture inevitably creates, such as interior and exterior, universality and particularity, openness and blocking. . By doing so, the outlines and boundaries of the building will be blurred, the personal arbitrariness of our designers will be diminished, and it will be possible to accommodate various views of residents and visitors, and all surrounding environments.
"We hope that this flexible and inclusive architecture will integrate the boundaries between nature and the urban landscape over time."