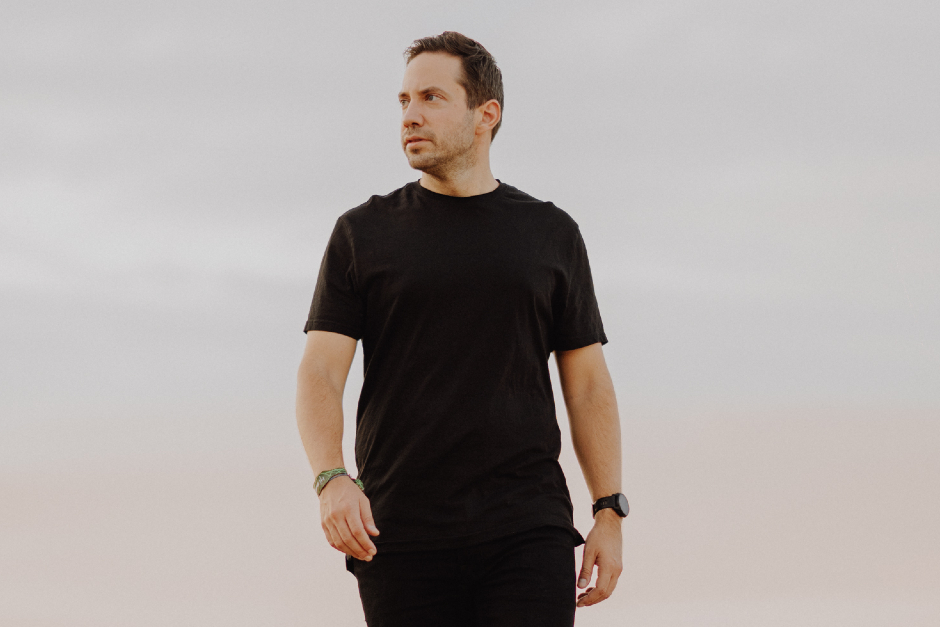 James de Torres: 'I hope this style change will bring a lot of good things in the future'
Photo credit: mario pinta
Madrid-based DJ and producer James de Torres is on the road to rediscovery. Shifting from the Trance scene to more progressive sounds, the NYC Dubspot Academy alum is wrapping up a sensational summer season in Ibiza, including performing at Hï Ibiza's Wild Corner, hooking up with world-class DJs and even letting drop his brand new EP 'Behemoth/Parallel Dimension' on UV Noir.
FOR EXAMPLE caught up Jacques de Torres to learn more about sound decay 'Behemoth / Parallel Dimension' EP, his transition from Trance to Progressive, his season in Ibiza, and much more.
EG: Hey James! Welcome to EG. It is a pleasure to have you with us. Where are you based at the moment? How have you been?
James de Torres: Thanks for the invitation. Until October I will stay in Ibiza, where I moved at the start of the season in April. This summer has been eventful, working every evening at Hi Ibiza was exciting and stressful at the same time.
EG: Summer is almost officially over. What were some of your highlights?
James de Torres: Working in the production area of ​​the best club in the world has left a long list of interesting highlights. Share snaps with Fisherman and Martin GarrixDJ with ID and Culture of the vintage during an after party, meet great legends like Simon Dunmore, David MorauxWhere Roger Sanchez and share stories with them, discover very talented artists like Natasha Digg Where Dan Shakebecome a good friend of paco osunaDJing in the club's Wild Corner,… I don't know where to stop.
EG: Congratulations on the release of your EP 'Behemoth / Parallel Dimension' on UV Noir! How was the initial reception?
James de Torres: The first person who congratulated me was the main owners of the label, Ali and Filawhat really makes me happy. Paul Thomas was also impressed with its chart position (it reached the Top 11). The EP received great support and good reviews, I hope this change of style will bring many good things in the future.
EG: So what can fans of James de Torres expect to find on these tracks? Is there an inspiring trigger for these?
James de Torres: I wanted to keep the uplifting feelings of trance in a darker techno vibe, let's put it that way. To focus on a more "club" sound that can be played by different DJs with different styles, with that groovy bass line. My inspiration could be the way music has evolved at the moment and thinking more about underground clubs than big festivals.
"I've seen trance music become very repetitive, without the passion it once had. Producers now need to make tracks very quickly, and it's more about quantity than quality, unfortunately"
EG: We also know that you will soon be releasing a new single via Interplay Flow. What can you anticipate about this one?
James de Torres: You will find two versions, vocal and instrumental, with more energy than the FSOUV EP, more progressive than techno, and a track that I find very easy to listen to, perfect for all kinds of ears.
EG: You recently transitioned from the trance scene to a more progressive sound. What prompted you to venture into deeper sounds?
James de Torres: I've loved Progressive House from the start, but my career has led me to the inspiring trance of this moment. When I saw that the niche was not only small but also saturated with many artists, with very few options to cross the finish line, I decided it was time for a change of sound. Also, I saw that trance music was getting very repetitive, without the passion it once had. Producers now need to make tracks very quickly, and it's more about quantity than quality, unfortunately.
Meanwhile, progressive, melodic techno has gotten bigger and bigger, and you can tell these tracks are made to tell a story, just like trance once was. I would say, it's the new "trance", and I'm not the only one to think so 😉
EG: Let's go into your studio… What does your setup look like? Any new software or hardware that you would personally recommend?
James de Torres: At the moment, my studio is unstructured, because I move around constantly with headphones, a Macbook Proand Ableton. I used Sylenth1 since the first day, Valhalla Room, EchoBoyand Serum. I look forward to getting some new material after the season is over, maybe a Moog synthesizer.
EG: How do you entertain yourself when you're not in the studio? Have you come across any good movies, books or albums lately?
James de Torres: My three passions in the world are music, photography and books. During the pandemic, when there were no music events, I was living off photography because I'm a professional food photographer, believe it or not.
Regarding books, at the moment I'm reading one called "Bill Murray's TAO", a mix between biography and steps to look like him. Before that, I read a Murakami one, and one Javier Marias (a Spanish writer who died that same month) book.
A book that I recommend all the time, especially to impatient people who don't have time to focus on lessons, is "Someone who will love you in all your damaged glory" by Raphael Bob-Waksbergcreator of the television series, BoJack Rider. Is a book of short stories that will make you reflect on your own life in a psychological way.
"During this time, progressive and melodic techno got bigger and bigger, and you can tell these tracks are made to tell a story, like trance did"
EG: What does an ordinary Monday look like in the life of James de Torres? And on a Friday?
James de Torres: Right now I live in an upside down world, working every night, where Monday is my day (night) off, so it's the day off. I watch some promos, go to the gym if possible, go to the beach or go shopping.
Friday is a hard day, that means I had the Life after death party the day before, which is the busiest in terms of production in the club, and we start preparing for by David Guetta night, which is much easier. But the stress of doing an amazing job is still there because it's the most successful night. That's why on Fridays I normally stay home, work on my music a bit, read and disconnect before returning to work. Ask me in a few months and my answer will be totally different (laughs).
EG: By the way, what do you think of the current state of the scene? What would you like to see more of and less of?
JSouls of Torres: Like I said before, the trance sadly wanes and the EDM starts to fade. This space has been occupied by underground melodic vibrations, names like Tale of us, Black coffee, Solomonand ARTBAT are on the crest of the wave right now.
On the techno side, the groove takes precedence, the vibes are the same but we see that the big names are losing their place and that the new generations are hitting hard, like Michael Bibi, Fishermanand Dom Dolla. It's good to see that in these genres the change of main characters has been accepted and the audience is fresh and looking for new things.
EG: What's next for James de Torres? What particular milestones are you looking forward to now?
James de Torres: In addition to the single "Ocean Whispers" fall on Interaction flow in October, I still have a three title EP coming out on Natura Viva. Sincerely, I am also looking forward to 2023, full of concerts and bringing great music and better vibes to music lovers everywhere.
EG: Thank you very much for your time, James! We wish you the best for the future.
James de Torres: Thank you so much for having me, it's been a cool interview, I hope it's the first of many with FOR EXAMPLE.
"Behemoth / Parallel Dimension" by James de Torres is available now via UV Noir. Buy your copy here.
Follow James de Torres: Facebook | instagram | sound cloud | Spotify