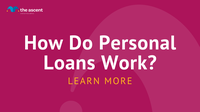 How do personal loans work?
Knowledge of the different fees
Some loans charge fees beyond the simple interest rate. Here are some you can see:
Assembly costs. Although not very common, some lenders charge origination fees. It is usually a percentage of the total loan amount. Look for loans with minimal or no origination fees.
Penalty for prepayment. A prepayment penalty is a fee a lender may charge if you repay your loan before the end of the loan term. Avoid loans with prepayment penalties because it's always better to pay off your loan ahead of schedule when you can. The good news is that prepayment penalties are not common in the personal loan industry.
How to get the best rates
The interest rate you'll pay on your personal loan can vary depending on several factors, including your credit score and your lender. Here's how to make sure you get the best rates.
Improve your credit score
Generally, you will get a low interest rate if you have an excellent credit rating.
If your credit score needs improvement, don't worry, you can still get a personal loan for fair credit. These loans generally charge a higher interest rate, but the interest rate will always (usually) be lower than the interest rate on a credit card. There are also several ways to build credit quickly, if you want to try to increase your score and improve your chances of getting a low interest rate.
Compare multiple lenders
It is not uncommon for a borrower to find loan offers with an interest rate difference of 8 percentage points or more, even when approaching the best personal lenders. This means that if you are applying to a group of lenders, offers with APRs ranging from 8% to 16% would not be unusual. What if you only apply to the 16% APR lender? You will never know what the interest rates are unless you go to several lenders.
Most personal lenders allow you to Get pre-approved, which includes checking your interest rates, in just minutes. An hour or two searching for loans is easy and could save you hundreds (or even thousands) of dollars.
Know how long it takes you to repay the loan
It can be tempting to choose the longest possible loan repayment term to keep your monthly payments low. However, it is wise to consider paying off your loan in the shortest time you can reasonably afford.
Let's say you borrow $20,000 to finance home renovations at an interest rate of 8%. Paying off the loan over a 48-month term would result in a monthly payment of $488.26, while a 72-month term would result in a payment of $350.66, which would keep an additional $137.60 in your wallet each month.
However, in the longer term, you would pay $5,248 in total interest, while the 48 month loan would have total interest charges of $3,436. By choosing to pay a little more each month, you to register $1,812 long term.