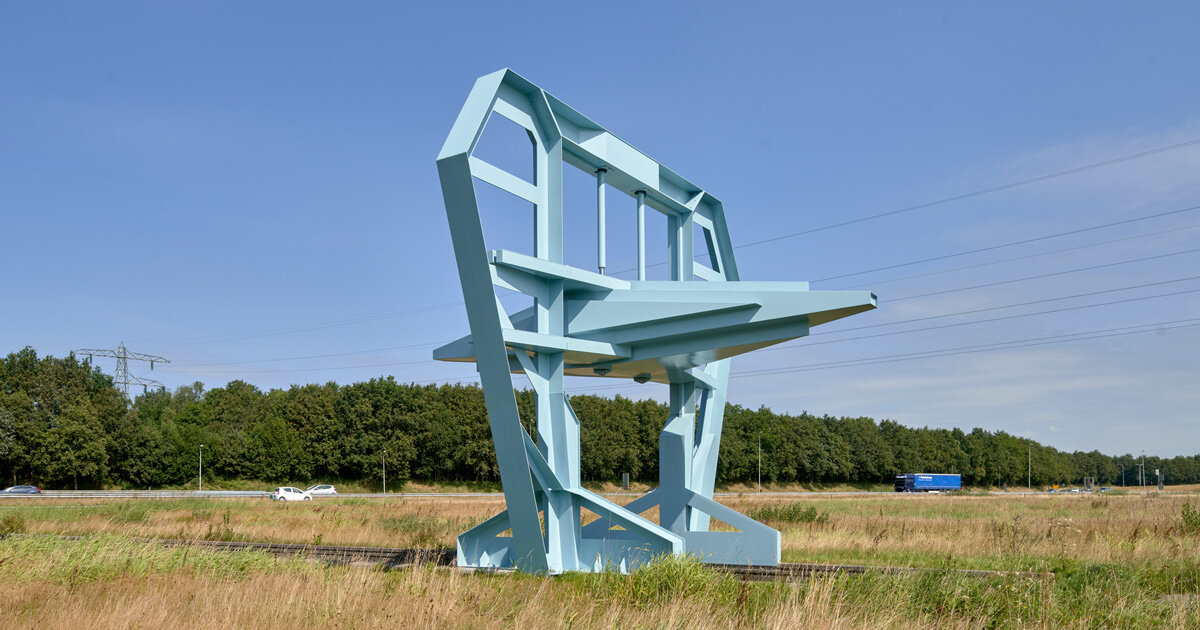 frank havermans studio erects industry-inspired blue door in drachten
the journey, not the destination — south gate
if you happen to travel through drachten in the Netherlands you could lay your eyes on studio frank havermans' contemporary reinterpretation of a city gate. 'south gate', or 'KAPKAR/A7-29 X FT', recalls the ancient gates and gates that marked the boundary between city and countryside, keeping citizens in and enemies out. however, unlike these structures of the past, the South Gate is designed to mark the journey, not the destination. explain the architects, 'commuting, travelling, being on the road on the highways is often experienced as a necessity, the goal being to reach your destination as quickly as possible. however, the south gate marks the journey itself. it attaches to the marvelous image of travelers in a hurry or not: where do they come from and where are they going?
images © rené de wit
at first glance, the south gate takes on a futuristic form in keeping with the often alien architectural portfolio of frank havermans. the gate is actually informed by the current and historic shipbuilding industry of the region as its shape is derived from gantry cranes. the design also features a floating element at the top that slowly rises and falls at its own pace, a far cry from that of contemporary gears.
Located at one end of a cycle and pedestrian tunnel, the south gate is intended to be part of the journey, whether it is a daily journey or a one-off journey. without any real economic reason for the gate, it is also an object of curiosity. 'wWhat thoughts arise when passers-by physically or mentally walk, cycle, or drive underneath? where does the door lead?' ask at the workshop.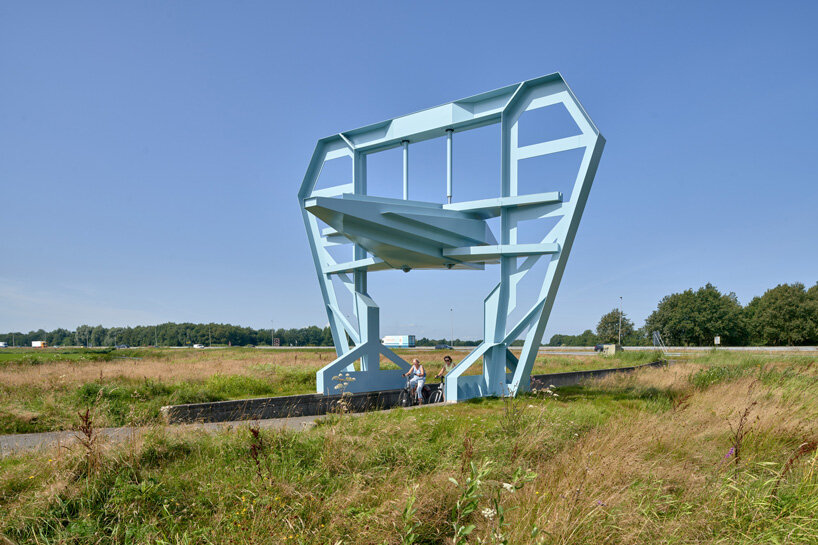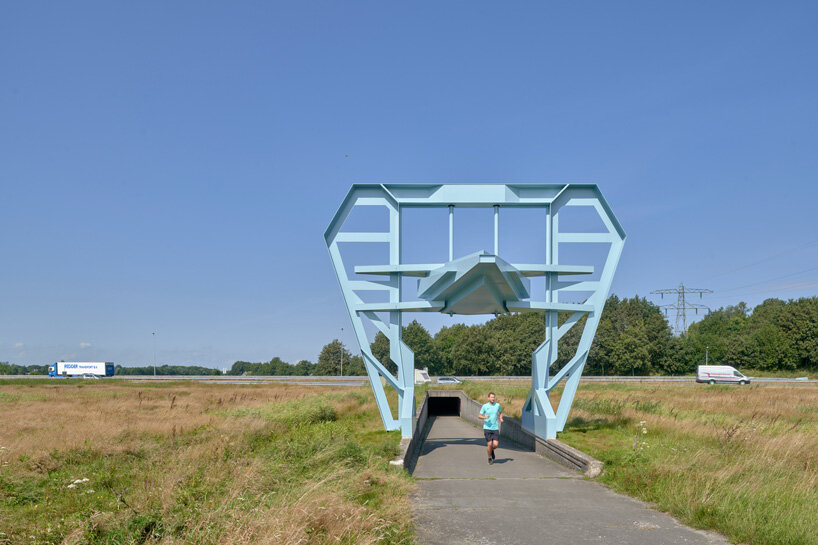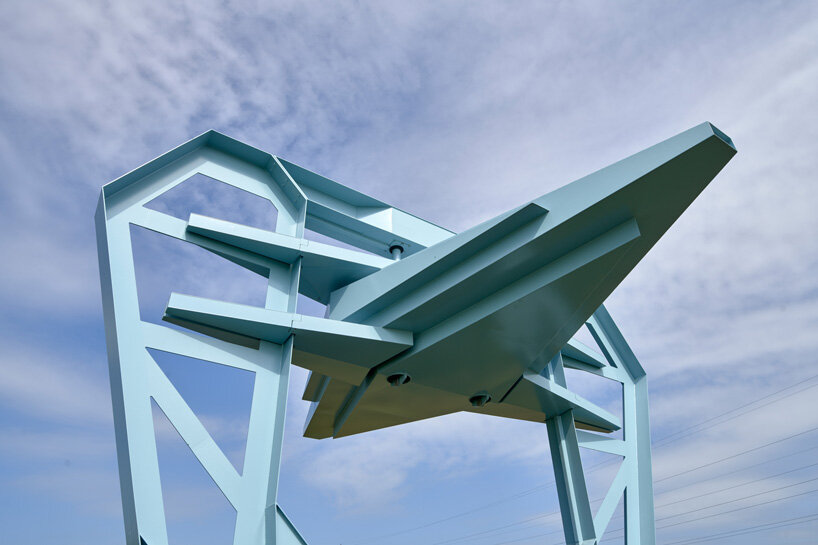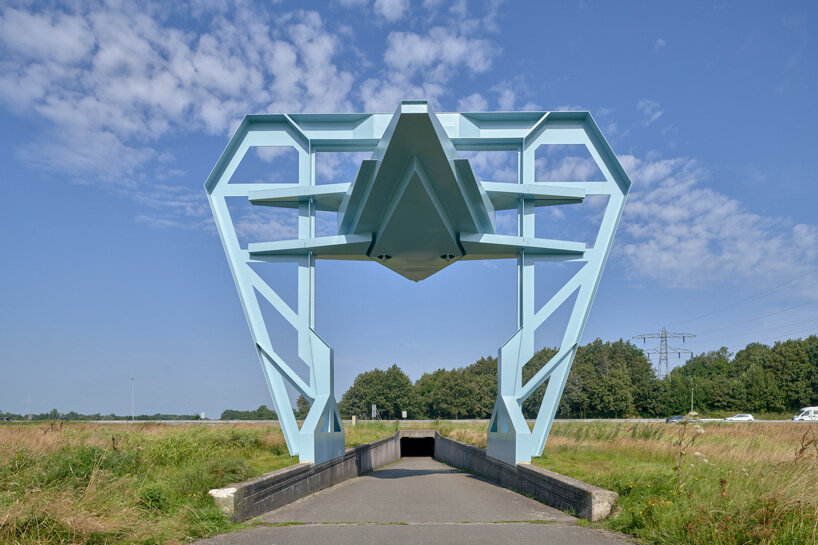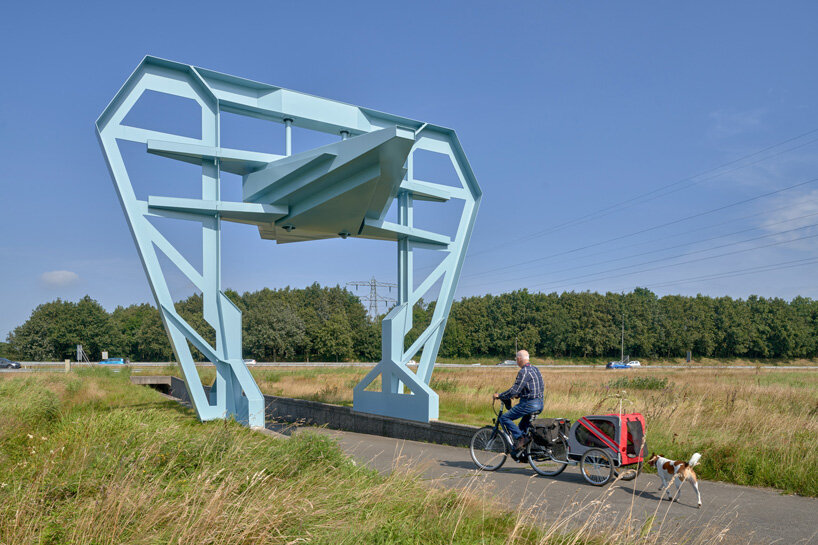 project info:
Last name: KAPKAR / A7-29 XFT | south gate
site: drachten, highway A7, exit 29, netherlands
design and project management: studio frank havermans
process management: TAAK, amsterdam
customer: Municipality of Smallingerland, TAAK
engineering and structural steelwork: SMST, a few drops
concrete engineering works: engineersbureau boorsma, drachten
earthworks, concreting: aannemersbedrijf eikelenboom, drachten
coating: veenstra coatings, heegh
Equipment: steel, lacquer, worm gear movement technique
year: 2021
photography & drone: © rené de wit | @architectuurfotograferen