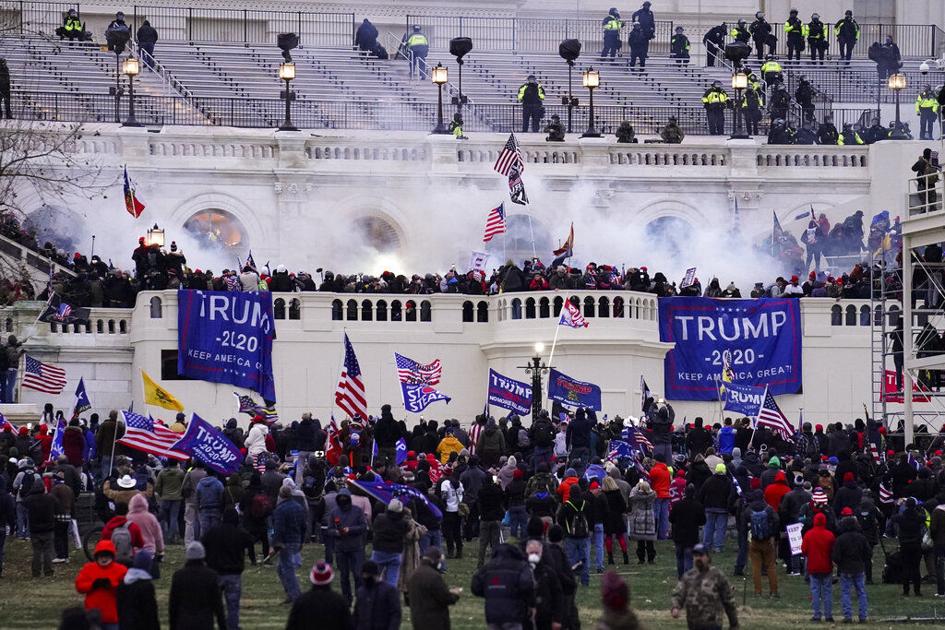 Editorial: Capitol rally seeks to rewrite the January 6 riot | Editorials
Former President Donald Trump's allies are planning a rally on Saturday in support of the rioters who attacked the U.S. Capitol on January 6.
Rally organizer Matt Braynard, a former Trump campaign strategist, said those who participated in the attack are being unfairly prosecuted for their involvement in the January 6 riot.
"I am so proud of all the courageous patriots who have participated in these rallies under the same threat to their rights as so many who are currently imprisoned for a non-violent expression of their rights under the First Amendment," he said. he said in a statement. July press release.
The rally scheduled for Saturday on Capitol Hill is the Trump loyalist's latest effort to revise the narrative of that murderous day.
First, there was an attempt to wrongly blame the January 6 riot against antifa and other leftist groups. After this lie was debunked, there came comparisons between rioters and peaceful protesters or even tourists.
Saturday's rally is an attempt to rationalize the horrific assault by Trump loyalists who stormed the building, fought police and tried to prevent Congress from certifying the election of Democrat Joe Biden.
"Some people call it January 6 truthfulness – they're rewriting the narrative to make it look like January 6 wasn't a big deal, and it was a hell of a big deal, and an attack on our democracy," he said. said Heidi Beirich, co-founder of the Global Project Against Hate and Extremism, which studies extremist movements.
Authorities must prepare for a reappearance of far-right groups such as the Proud Boys and the Oath Keepers and other Trump loyalists who have assaulted the Capitol.
On Monday, Capitol Hill police arrested a Californian who had a bayonet and machete in his van outside the Democratic National Committee headquarters. The man, Donald Craighead of Oceanside, Calif., Had a swastika and other symbols of white supremacy painted on his truck and told officers he was "on patrol." Police said it was not clear if he planned to attend any upcoming protests.
The rally comes as Trump openly contemplates another White House candidacy and many Republican lawmakers continue to repeat his false claims that the election was rigged.
Trump and other elected officials have yet to be held accountable for their role in inciting the January 6 crowd. Trump encouraged the crowd to come to Capitol Hill and "fight like hell." Rep. Mo Brooks, R-Ala., Currently running for the Senate, has joined the rally fans. Senator Josh Hawley, R-Mo., Was captured in a photo raising a fist in tribute to the crowd as he entered the Capitol that day.
More than 600 people face federal charges in the riot that injured dozens of officers and sent lawmakers underground. Five people ultimately died, including Trump supporter Ashli ​​Babbitt, who was shot and killed by police as she attempted to break into a hall of the House bedroom. Several police officers committed suicide later.
Hundreds of people have been charged with misdemeanors for illegally entering the Capitol, but hundreds more face more serious felony charges, including assault, obstructing formal proceedings, or conspiring.
The rally comes as authorities continue to investigate and determine the extent to which the attack was planned. More than 60 people have pleaded guilty, mostly to felony charges of demonstrating on Capitol Hill.
Defenders of suspected Capitol Hill attackers say they face tougher prosecutions for their political views than others, including Black Lives Matter protesters, but PA review of court cases refutes this affirmation.
Representative Adam Schiff, D-Calif., Chairman of the House Intelligence Committee and member of the core group investigating the Jan.6 attack, said those who broke the law must be prosecuted, "otherwise we rationalize, apologize and encourage more of the same.
Saturday's rally not only rationalizes the violence of the Jan.6 assault, but it is also an attempt to reward those who have sought to undermine American democracy.