dongfengyun hotel mi'le — Mgallery in yunnan, china
dongfengyun hotel mi'le — Mgallery by luo xu and ccd
located in the Chinese yunnan province, dongfengyun hotel mi'le — Mgallery is a collaborative project between renowned artist luo xu and a local studio CCDs. the architecture, designed by xu, reflects the concept of "austerity, simplicity, and authenticity". the interiors, made by CCD, also adopt a simple language that moves away from modernized and industrial expressions: drawing inspiration from the local culture, the spaces exude craftsmanship and artistic flair to showcase the city's history art by dongfengyun. thus, the whole Hotel the design seems to have been kneaded by large rough hands, bearing the traces of time in its essence.
pictures © wang ting, qiu xin
a visual feast of light, shadow and natural materials
one of the most captivating features of the project is the bowl-shaped entry space with a cut-out opening on top to create impressive echoes. with natural daylight streaming in, light and shadows move freely through the space and fall on the curved boundary wall, appearing as an undulating surface of water that sparks the imagination. 'the varied rhythms of light and shadow combined with surprising sensory experiences and elaborate details create a sense of ritual to welcome guests," CCD actions (see works here).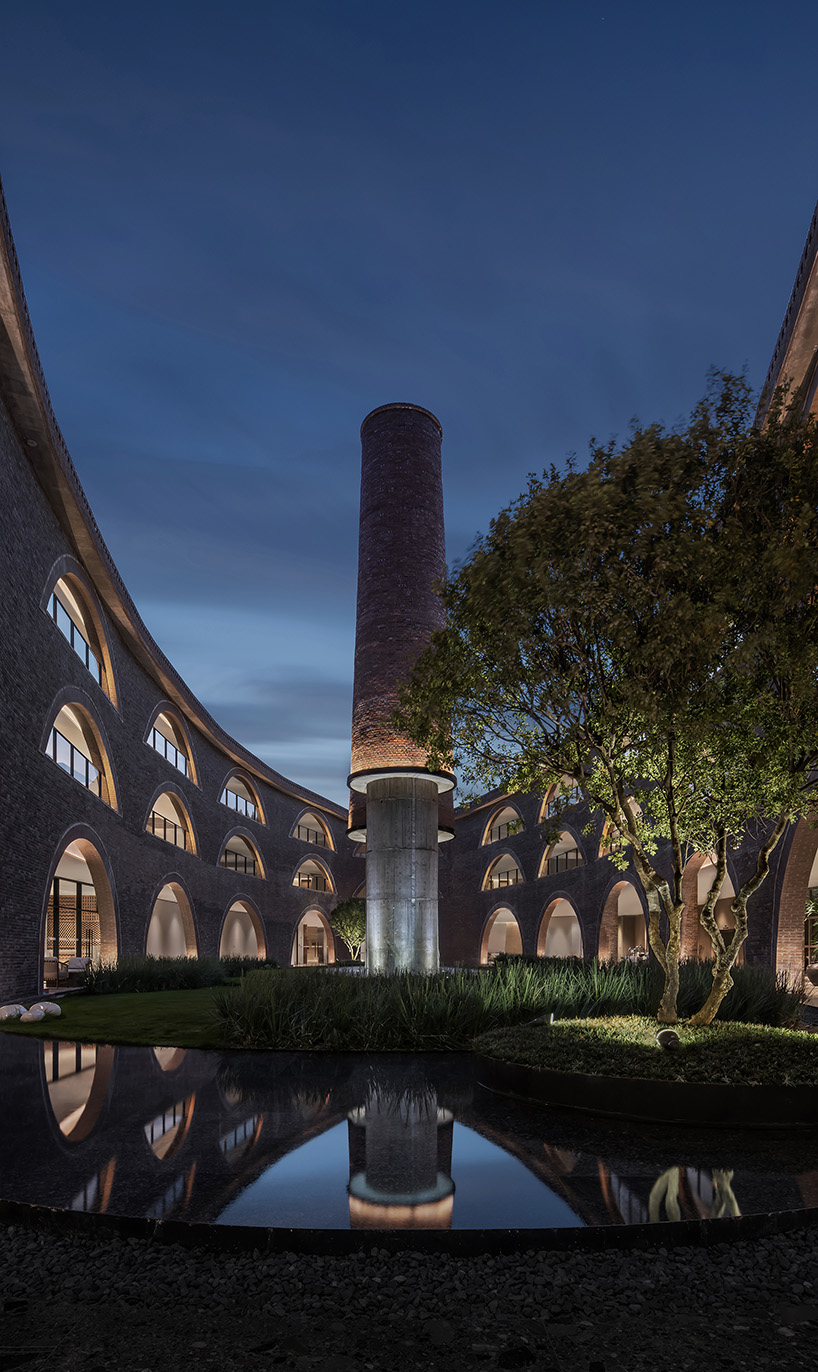 speaking of light, and since the hotel is designed as a resort, the design team mainly adopted low lighting to create a comfortable, natural and warm ambience. in contrast, the lighting of artwork, signs and tabletops is accentuated to create visual reflections. In addition, wall-mounted light strips installed near the floor generate a soft, graceful and ethereal atmosphere, in perfect interaction with the hotel spaces. Frameless black mirrored light fixtures are also integrated and concealed mounted to create a visual feast of light, shadow and material.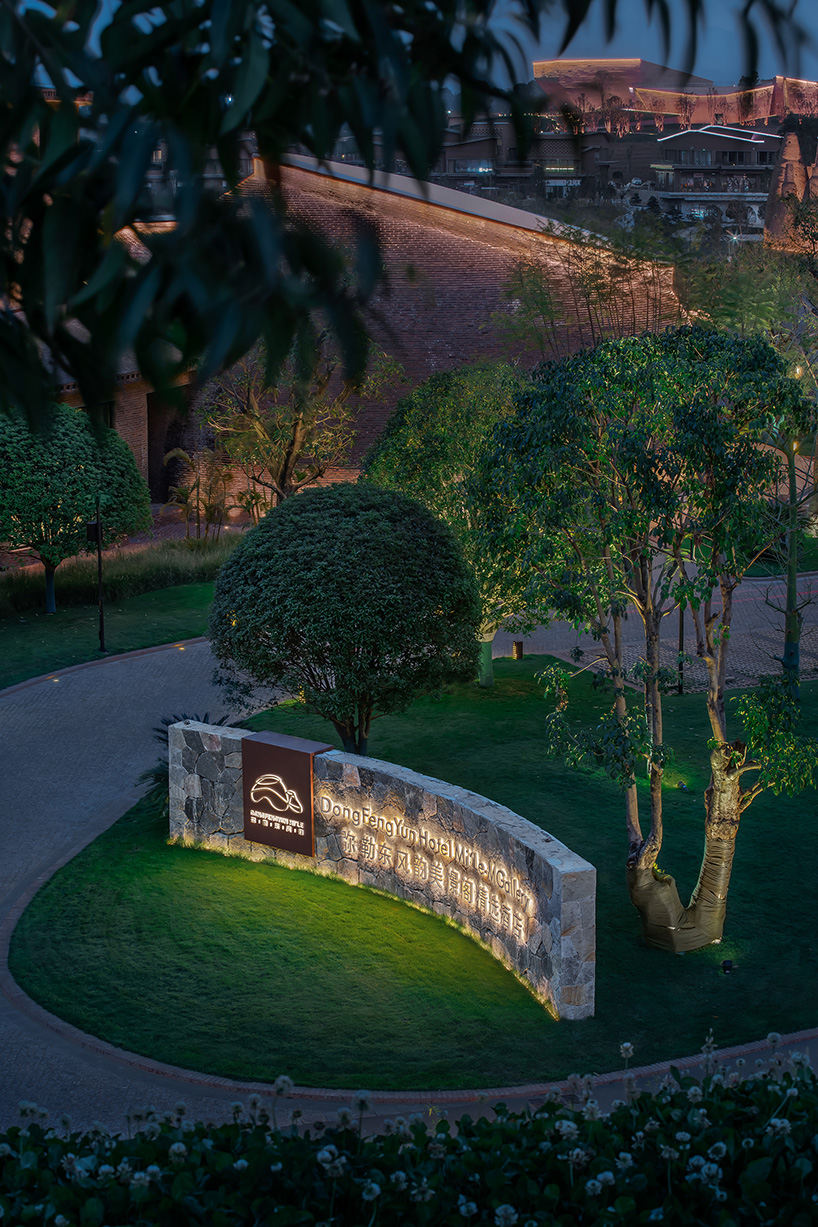 moving on to the lobby, base materials such as local red, fired bricks, cement, clay and pots are adopted, unifying the tone of the interior space with the building as a whole. CCD has abandoned complex and exaggerated decorations. instead, it aimed to let each object in the space gradually reveal the authentic charm of the hotel over time. the cemented back wall, round columns, pot-shaped lamps and geometric front desks combine to reveal sculptural and powerful features. in the words of the architects, 'these elements are independent but also complementary. a simple atmosphere permeates the overall space — and through various forms, the design achieves the symbiosis of natural and architectural elements.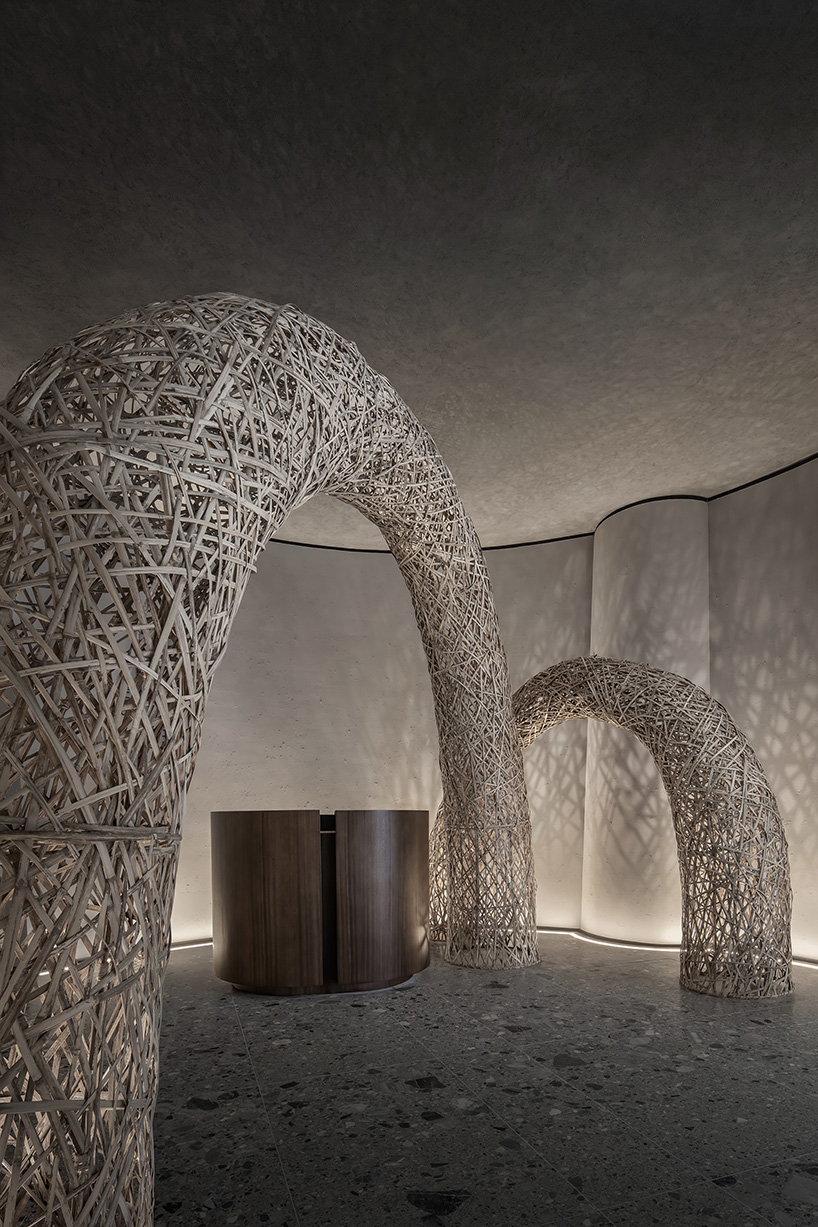 tranquil waterscape: evocative of a meditative retreat
finally, the atrium of the hotel is devoid of excessive flowers or plants. instead, it's highlighted by a shallow undulating pool in the middle, tranquil yet intriguing. as a result, the architecture and plants are reflected on the surface of the water, which expands the atmospheric space and provides a relaxing and refreshing experience – transforming parts of the resort into a meditative retreat.