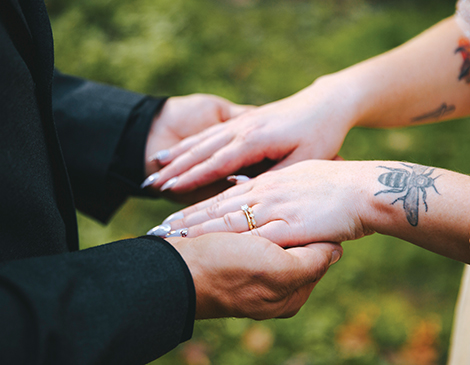 Capture your wedding day perfectly with these photography tips
Local photographer Shelly Duncan breaks down the things to know when hiring a wedding photographer for your big day.
From wedding portraits and first reveal to ceremony snaps and candids on the dance floor, your wedding day is likely to be one of the most photographed days of your life. It is therefore important to choose a photographer that you trust and whose work you do. to like.
But how, exactly, are you supposed to go about it? Understanding how overwhelming it can be to analyze all the options alone, Cleveland-based fine art photographer Shelly Duncan shares her top three tips for finding your ideal fit.
Identify your style
Before hiring a photographer directly, first determine the style you want: do you want lots of portrait-style photos or more candid photos that capture the day's activity? Be intentional and create a mood board for how you want it to be commemorated. "There are many different styles of wedding photography, so an important first step is to figure out what style of photography you'd like to see capture your day," says Duncan.
Conduct some interviews
Your photographer is an integral part of your wedding day, tasked with visually archiving your memories – so you want to make sure you have a good relationship with whoever you hire. "Once you've narrowed down your choices to a few different photographers, call each of them for 10 minutes and chat to see how you stack up against them," Duncan suggests. If the budget allows, you can even do a test session to get a better idea of ​​their style.
Know what you are paying for
Each photographer offers different packages and prices, so make sure you understand in advance exactly what you're paying for and what you're getting in return. "Some photographers include print rights, which means you pay a fixed price to see all your photos and print or publish the ones you want," Duncan explains. "But other photographers sell prints, and you can only go through them. Just make sure you know which one you're getting.