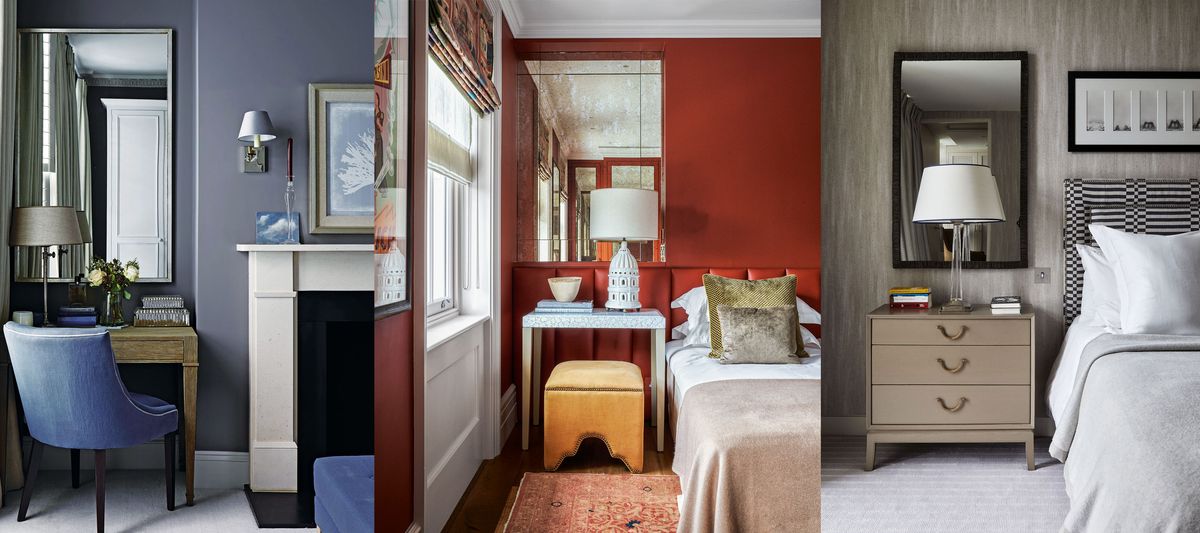 Bedroom Mirror Ideas: 10 Clever Design Styles and Techniques
Bedroom mirror ideas can bring a lot to the room. Apart from their obvious usefulness, mirrors can light up a room and offer a new vision of space. They can also be as decorative as any artwork you might choose to hang.
And they even have the potential to create the illusion of depth or other space beyond the bedroom.
Below we've rounded up bedroom mirror ideas to inspire and share the ways they can make more of the room.
bedroom mirror ideas
Singles, pairs, and groups are all bedroom mirrors to consider for your bedroom ideas. When selecting, consider the overall size of the mirror(s), but also the relative proportions of the mirror surface and any frame. Also pay attention to the frame material to select the perfect design.
1. Make the room comfortable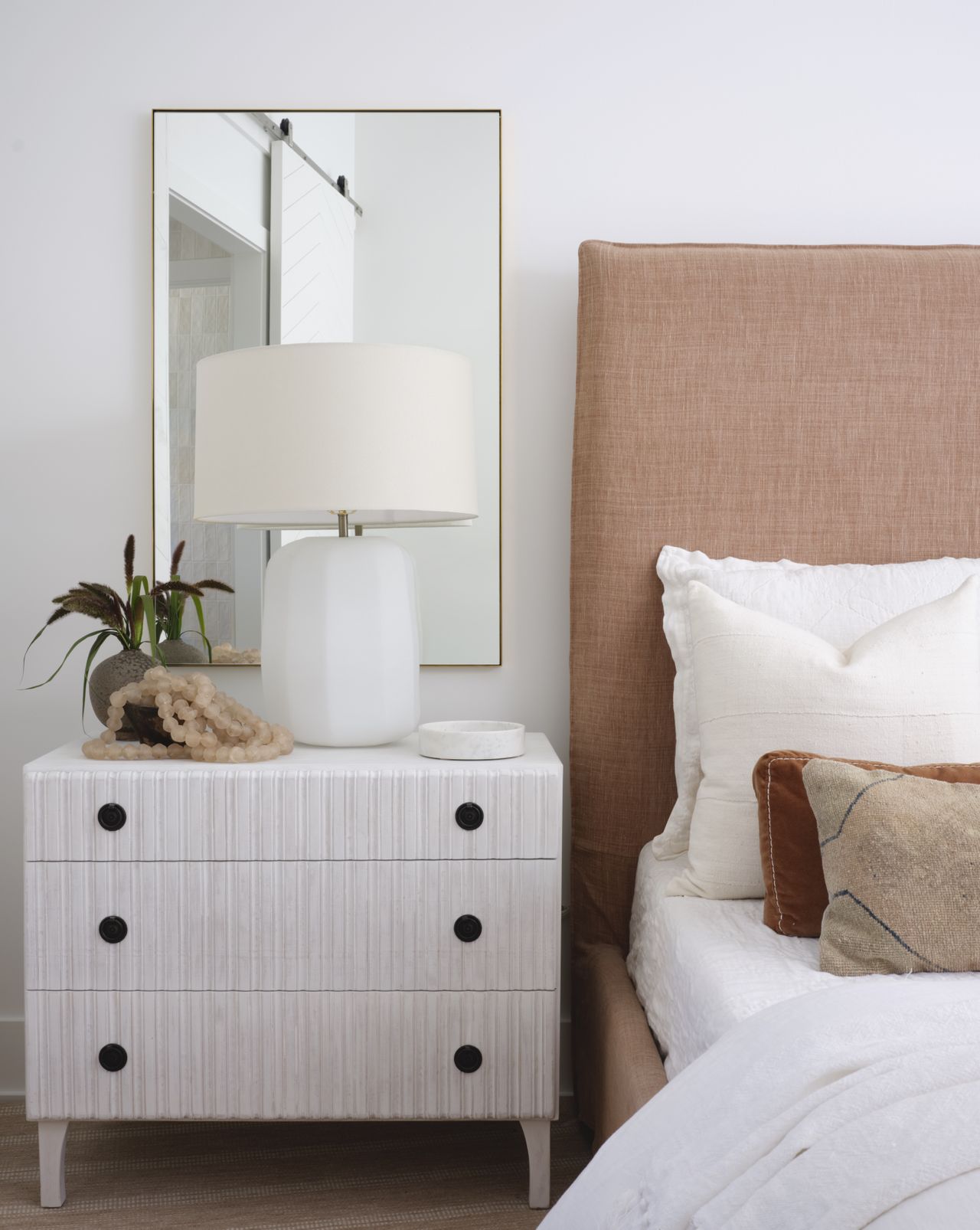 Among your ideas for bedroom mirrors, consider positioning them on either side of the bed. In addition to giving depth to the room, with a lamp in front, mirrors can make it cozier.
"Hanging a sleek mirror above a bedside table adds dimension and perspective," says Emily Dunn of Interior design by Emily Dunn. "The reflection of light from a bedside table adds a cozy bedroom element at night."
2. Take an unusual approach with a mirrored headboard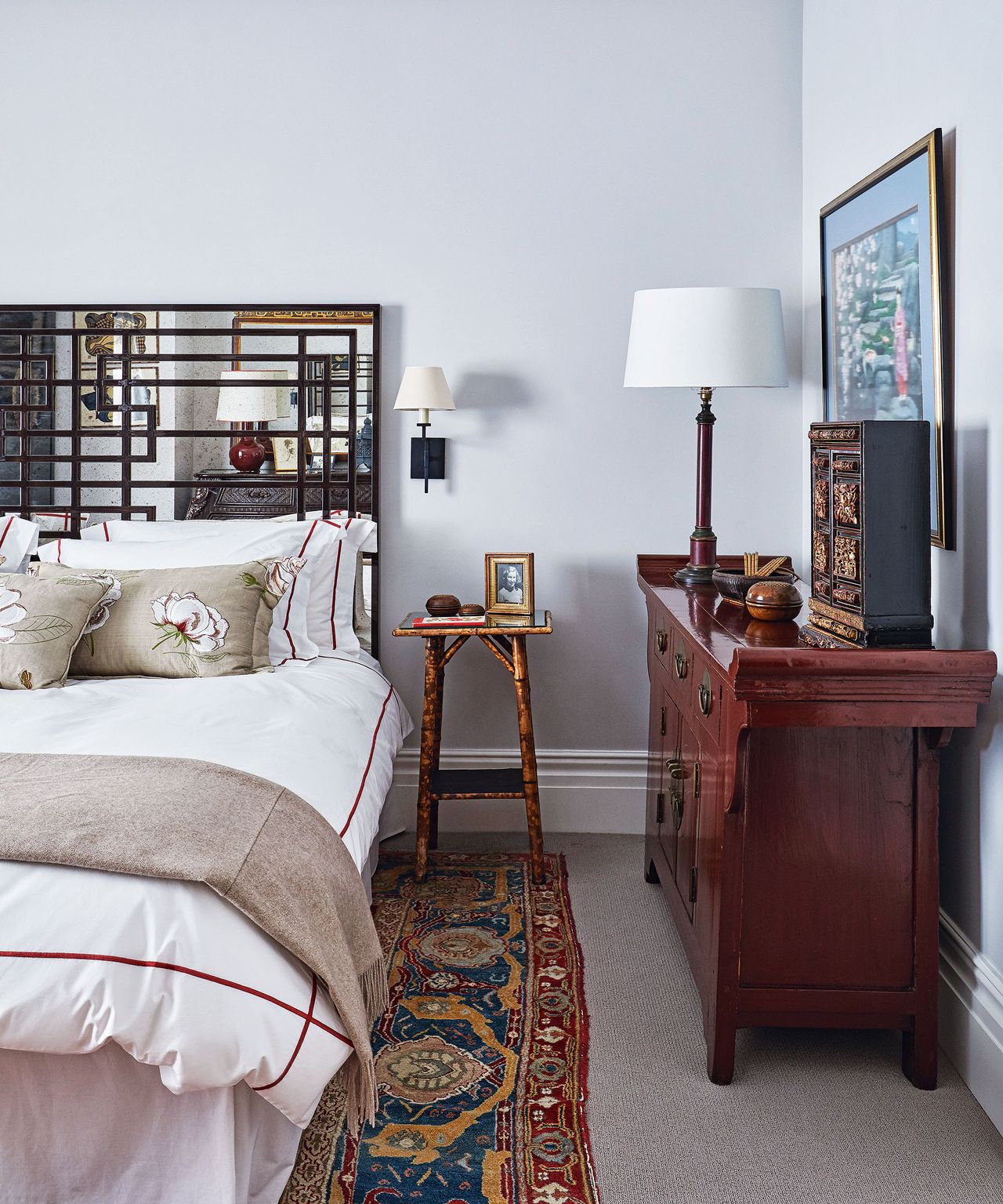 Headboard ideas can totally transform a bedroom, but there's more to it than simply placing a padded board behind the head of your bed.
If you have a small bedroom or are short on wall space, look no further than a mirrored headboard. Plus, it can help the space feel bigger and reflect light to brighten a room.
3. Choose an aged finish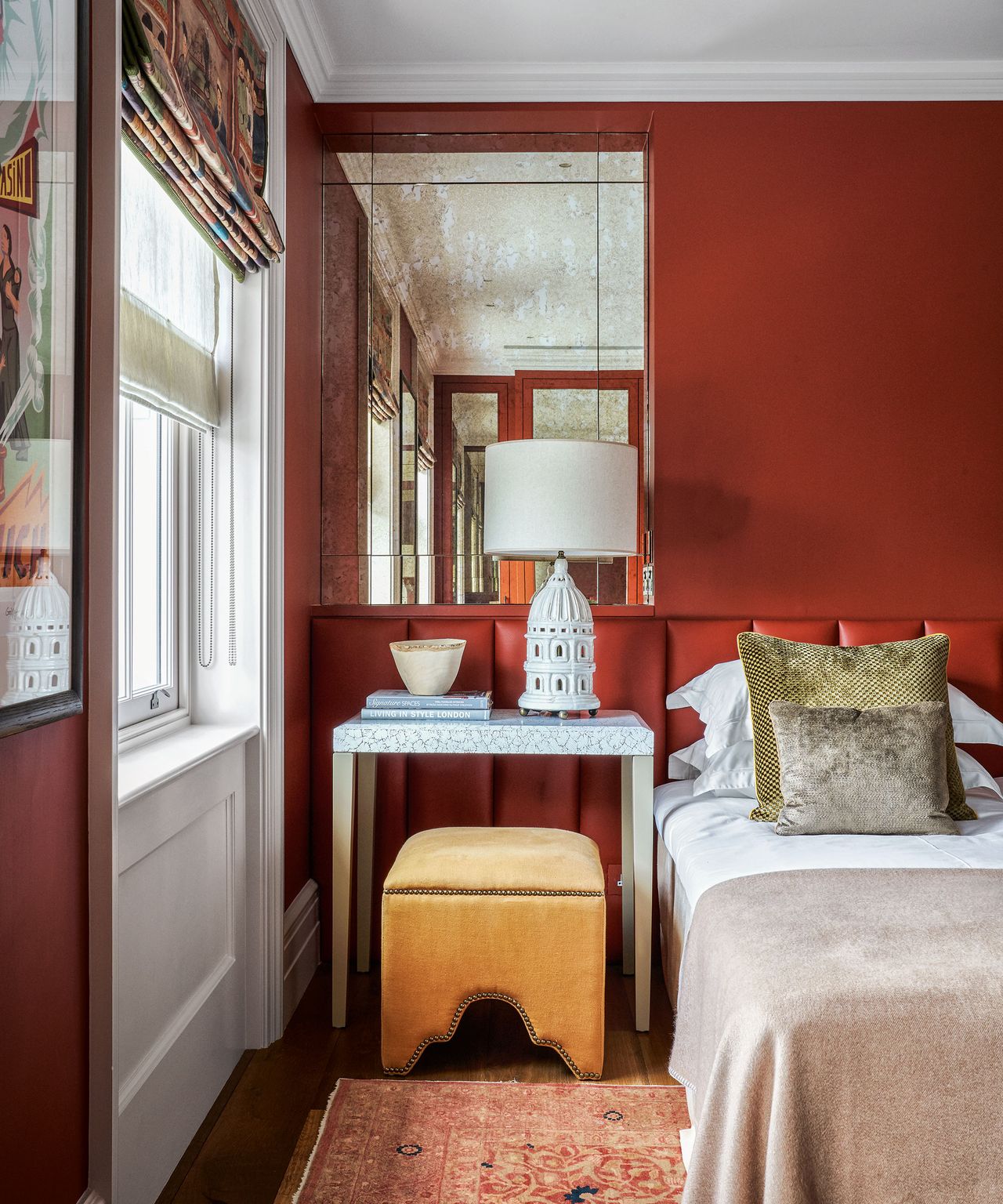 Think about the qualities of the mirrored glass itself and how it will contribute to the aesthetics of the room.
"Antique mirrors soften and diffuse light in a wonderfully soothing way, perfect in a bedroom," says Kristin Kong of K-Kong design. "The wonderful sheen they provide adds to the glamor of the bedroom's luxury materials on the bed and blinds for a truly lavish sanctuary."
4. Focus on the frame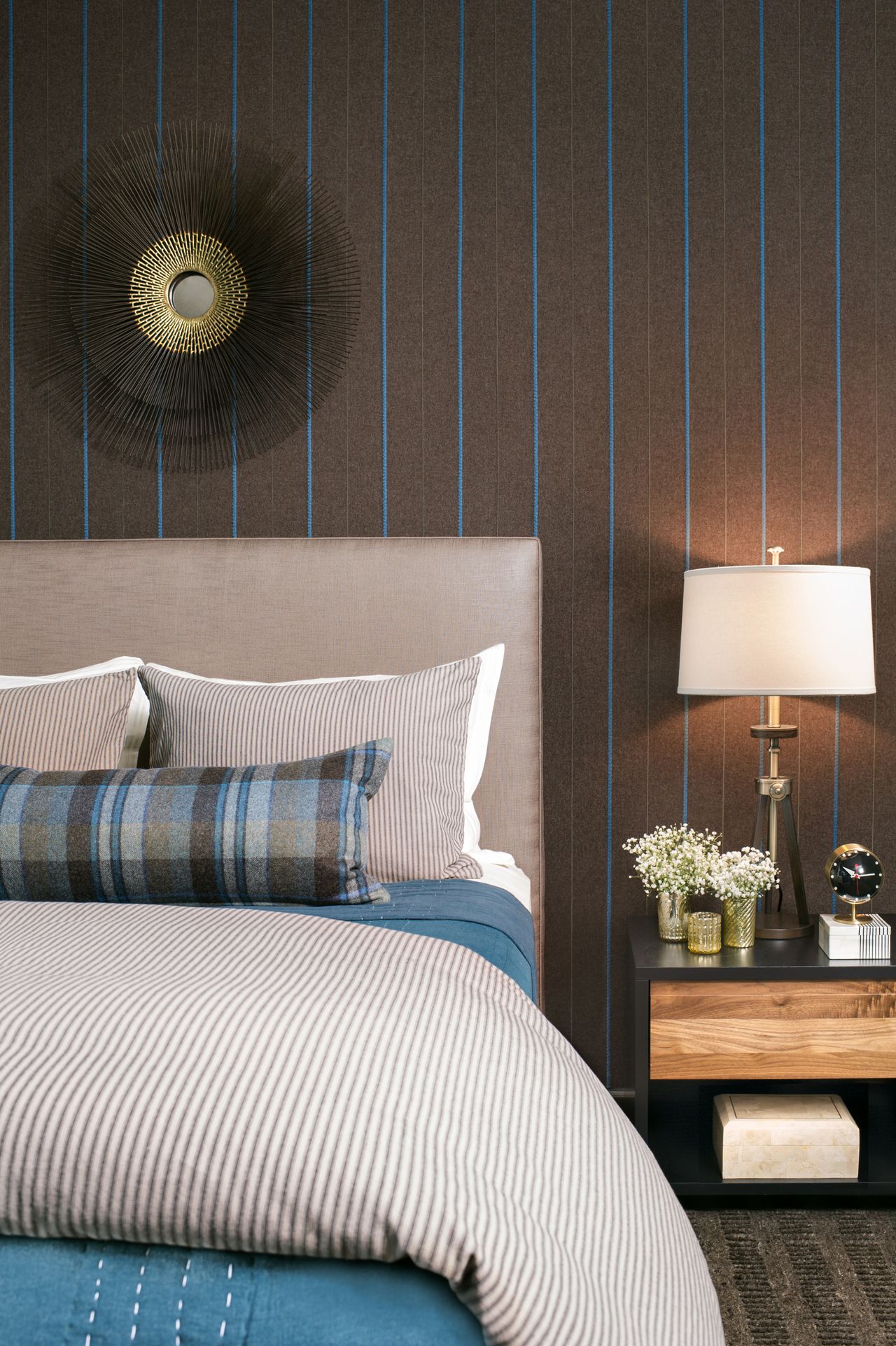 Flip the tables on convention with a mirror that changes up the usual reflective surface to frame the proportions. Here, the mirror and gold detailing around it creates an opulent, light-reflecting center, while the rest of the frame adds wonderful textural detail against the sophisticated wall decor ideas and upholstery.
5. Reduce the mirror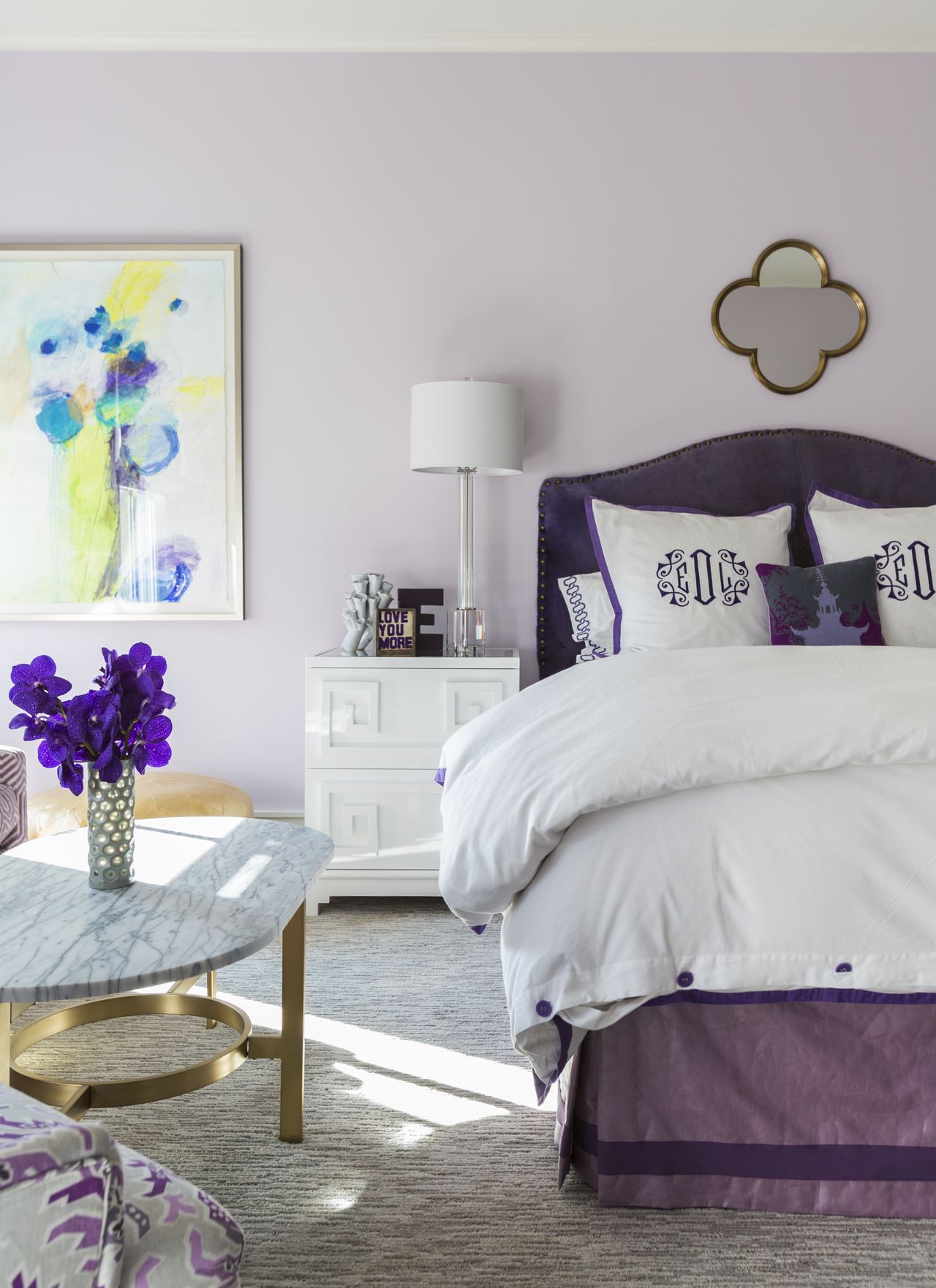 Bedroom mirror ideas for guest bedrooms don't have to be large scale to make an impression as part of the room design.
"I love using mirrors of all shapes and sizes because they always add another window idea to a room," says Courtnay Tartt Elias with creative tonic. "I especially like playing with the scale of mirrors like this one above the bed. It looks like a small reflective kiss above the headboard.
6. Focus on materials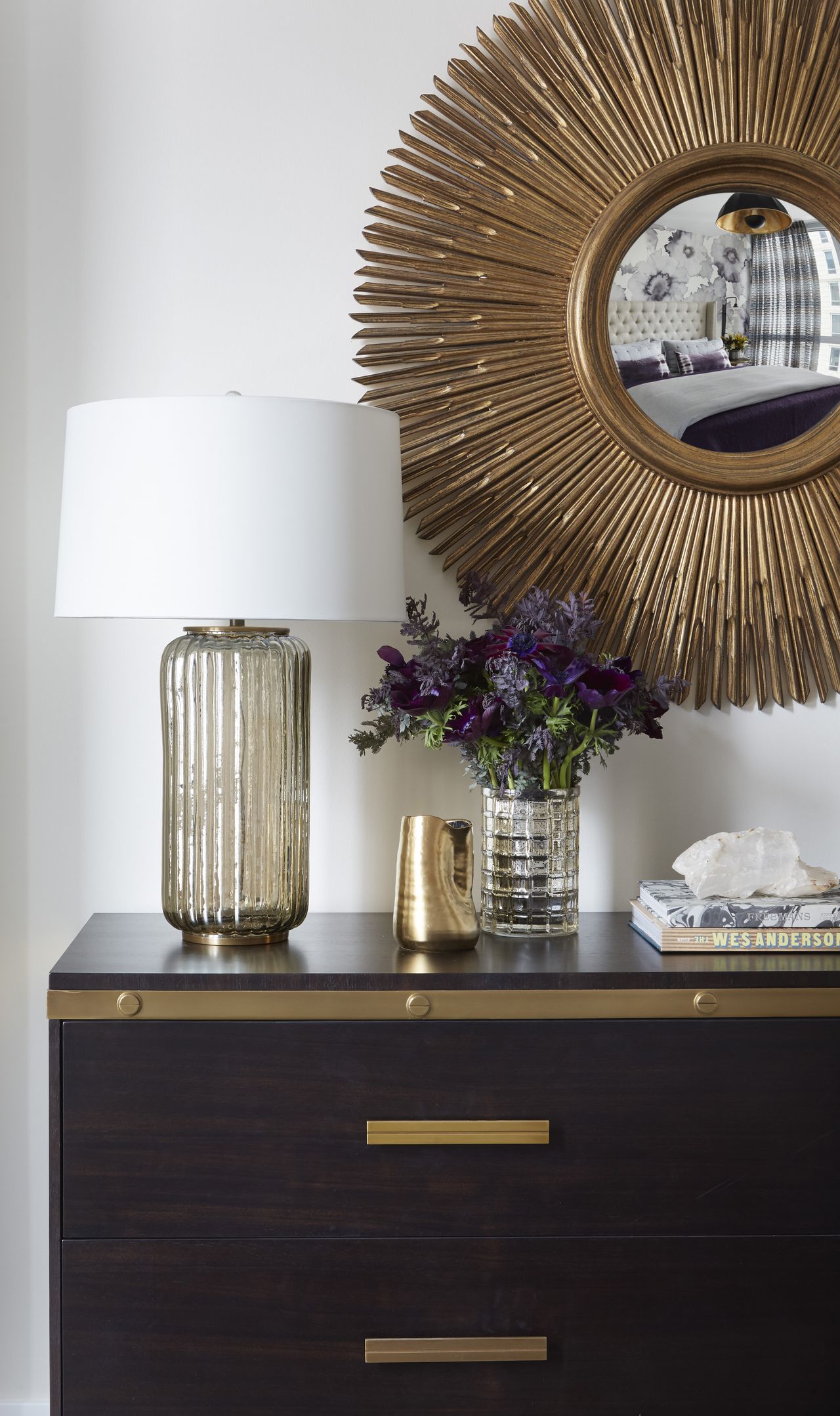 To keep your bedroom scheme cohesive, focus on frame materials when shortlisting bedroom mirror ideas. Metals can be repeated in furniture via cabinet knobs, drawer pulls and table legs, in lamp bases and shades, and in decorative accessories.
The gold frame is both warm and luxurious or, for a cooler but still sophisticated note, select silver tones. If the room is rustic, wood will do.
7. Echo the aesthetic of the room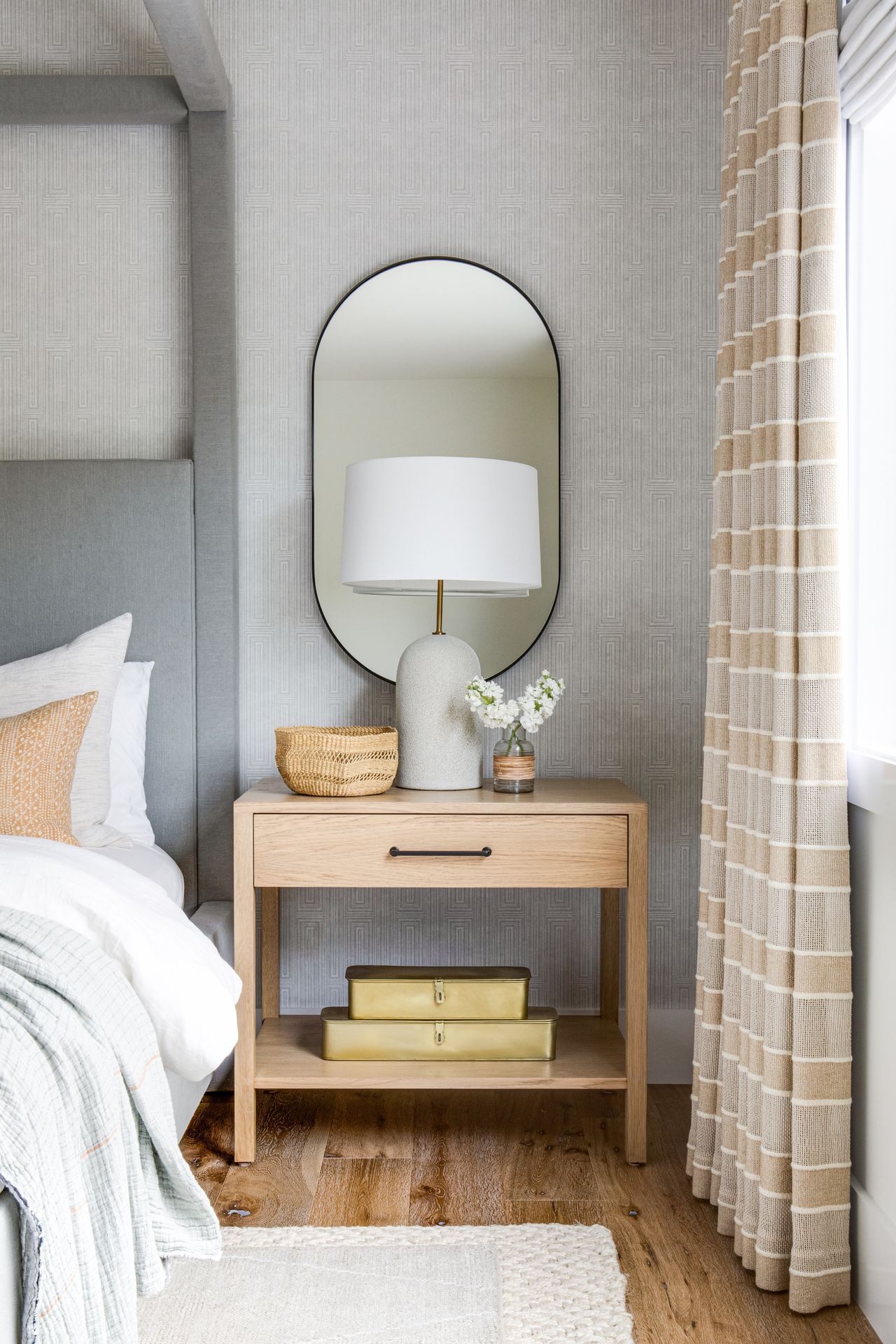 Modern bedroom decor with no-frills details deserves an equally stylish mirror with a simple, slim frame. But you might want to take inspiration from this bedroom where the mirror has a curvaceous shape that contrasts with the lines of the bed. It works with the attractive textural qualities of bedroom upholstery and curtain ideas to make it a contemporary room that is also a calming space.
8. Check out the benefits of a floor mirror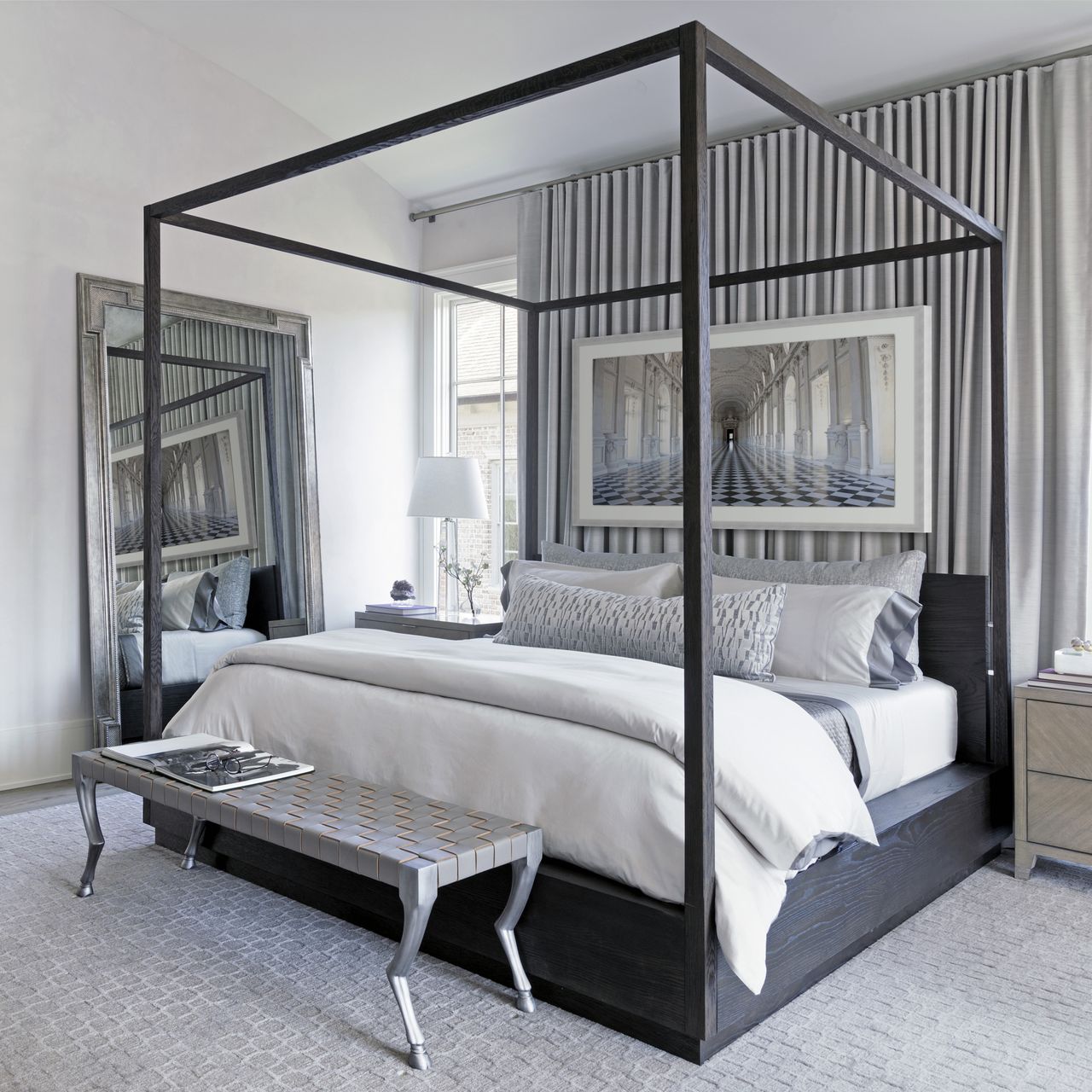 A floor mirror is a practical addition to any bed idea, but it also has huge decorative benefits.
"Mirrors are a fantastic way to weave depth and dimension into any interior, and the floor piece here makes a bold statement in this tonal master bedroom," says Benjamin Johnston with Benjamin Johnston Design.
"Reflecting natural light and mirroring surrounding design elements, it visually expands the space while balancing the room's texture-rich design with sheer volume and a welcome sense of grandeur."
9. Highlight an antique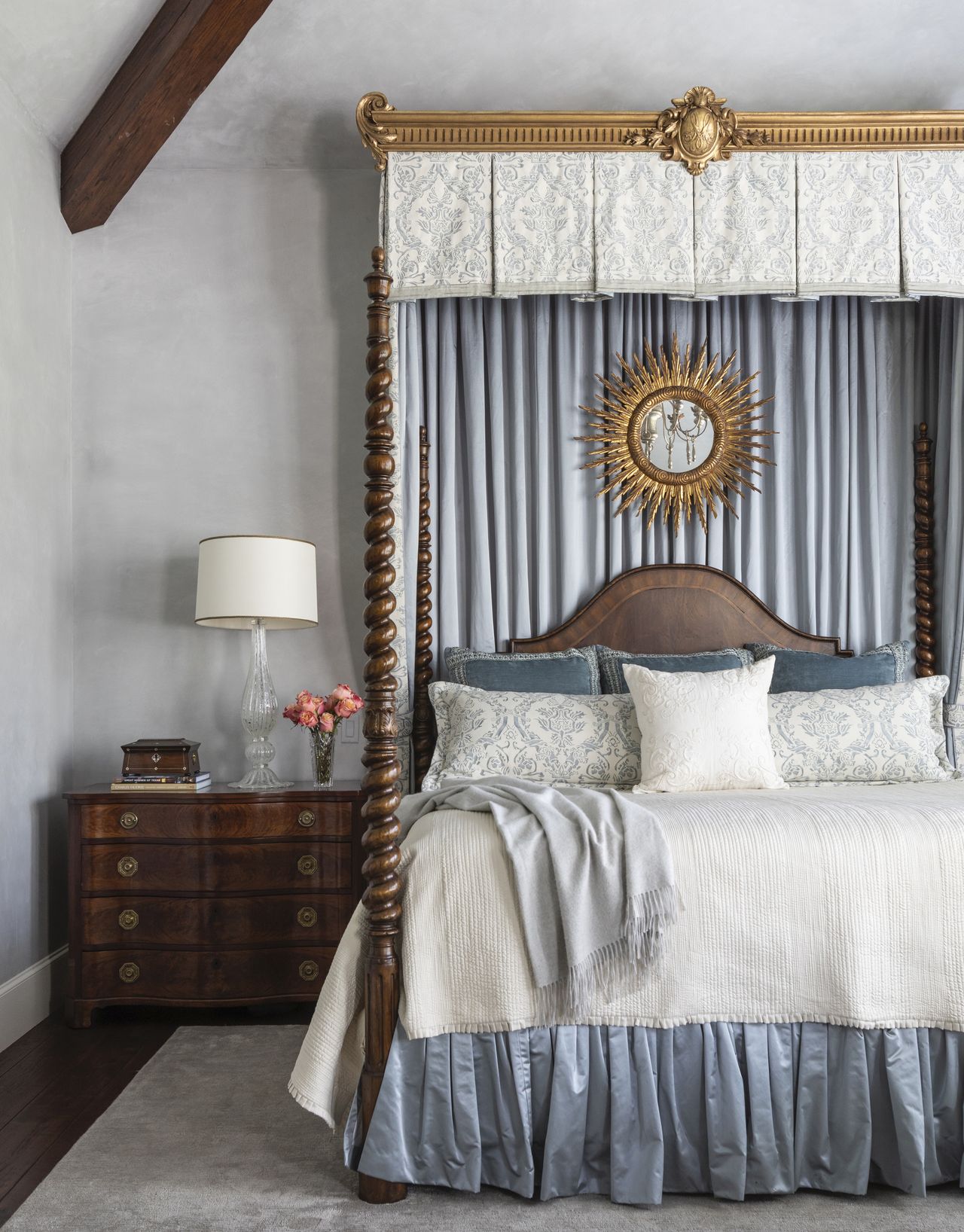 An antique mirror can make a beautiful focal point for a bedroom and can be set against contemporary artwork elsewhere in the room.
"We turned to color and custom furnishings and draperies to create this tranquil master bedroom punctuated by welcome bursts of vibrant blue hues," says Sarah Eilers of Lucas Eilers Design Associates.
"Complementing modern fine art photography, the antique mirror serves as a beautiful yet unexpected focal point that brings warmth while paying homage to my client's passion for blending old and new."
10. Make a small bedroom bigger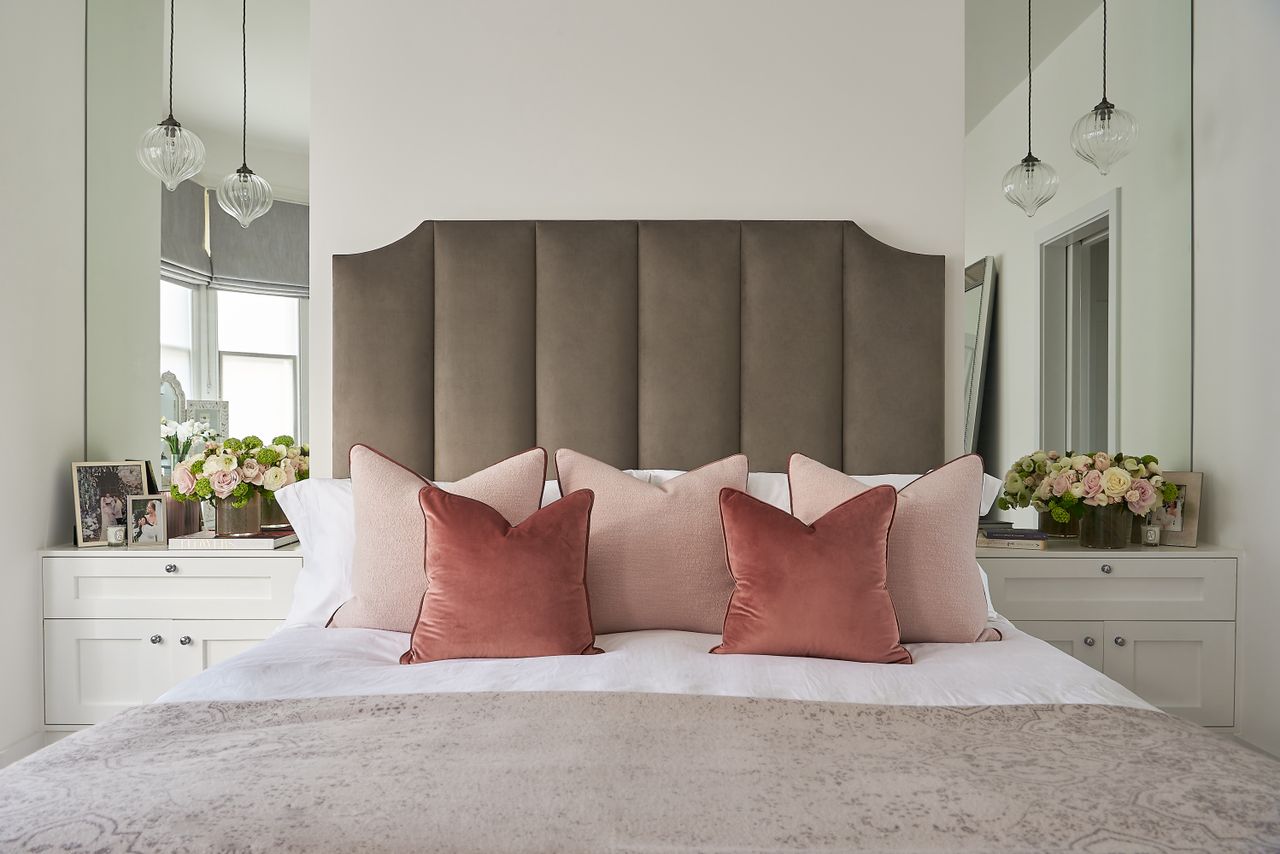 Clever bedroom style ideas with mirrors can make a small bedroom feel bigger. One way to achieve this is to install mirrors up to ceiling height on either side of the bed so that they create the illusion of alcoves.
As with any bedroom mirror, check the view you are creating before hanging it to make sure you are reflecting the most stylish features of the room.
Where should a mirror be placed in a bedroom?
A mirror can be placed on either side of the bed for attractive symmetry and to add detail to the main feature of the room. Alternatively, hang a single mirror above the bed, but here it may be advisable to hire a professional to be sure it is hung securely. Avoid hanging a mirror next to the bed as it can create a feeling of discomfort.
Bedroom mirrors can also be paired with bedroom furniture below, such as a vanity or dresser, or hung above a fireplace.
How many mirrors should there be in a bedroom?
It's a good idea to opt for at least two mirrors in any bedroom for practicality, and this would include both a full-length version and a smaller one. However, these do not have to be part of the decor: a long mirror can be placed in a closet or integrated into your dressing room ideas, for example.
Decoratively, mirrors can function as works of art, so hanging a single one or grouping them together will increase the number in the room. You can also use a pair facing each other to make the room look bigger or either side of the bed for symmetry and light reflection.