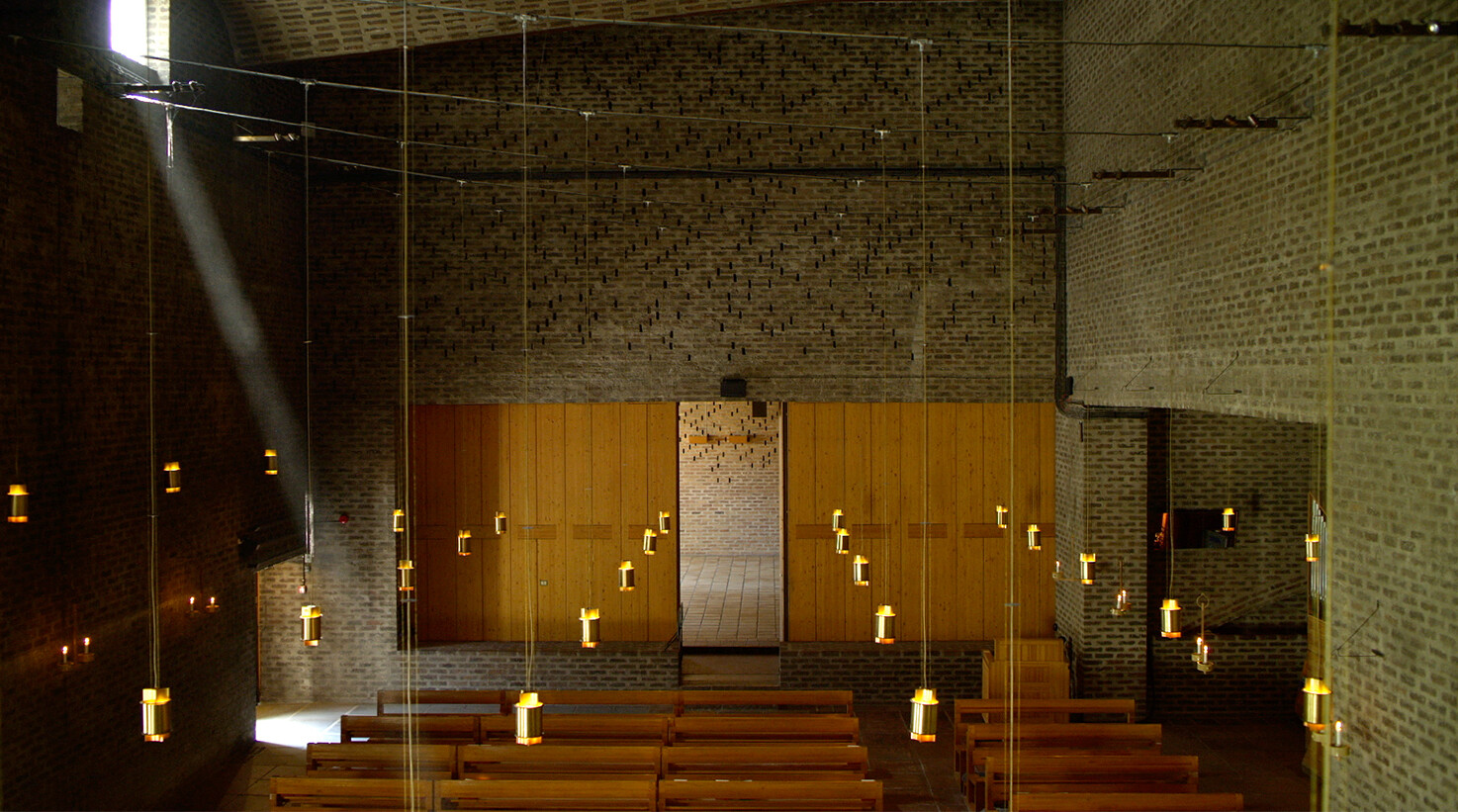 Amie Siegel: The Silence – Announcements
ArkDes, the Swedish center for architecture and design, is delighted to present the premiere of The silence (2022), a new moving image installation by Amie Siegel. A double video projection composed of two alternating segments – each filmed and performed in two churches designed by the Swedish architect Sigurd Lewerentz (1885-1975): Saint-Marc (Stockholm) and Saint-Pierre (Klippan) –The silence considers the relationship between architecture, music, sound and the intangible.
The silence behaves much like a vinyl album – each "side" or video projection, performing a musical score that the artist adapted from the unique brick-patterned walls of the churches and had played on the organs that Lewerentz had designed for each space. The startling similarity that Siegel draws between Lewerentz's graphic masonry and player piano scores – rolls of paper dotted with patterns of small perforated absences that generate "self-playing" ghostly music – alludes here to larger existential questions. of presence and absence, sound and silence, which often guide or interfere with spiritual life, and thus permeate "The Church" as a unique architectural space where such questions take shape.
Sheet music for The silence were arranged for organ by Jeff Murcko and performed by Lina Wijk Furali and Eva Karpe, with sound recorded by Jonas Goldmann and mixed by Jon Russell. The work is edited by Amie Siegel and features photography by Christine A. Maier, camera assistance by Anton Bergström, lighting assistance by Frederik Nordesjö, and hands-on shooting by Jonathan Lee with the help from David Bensouda. Digital imagery by Lars Edlund and color by Alex Beyer at Post Republic, Berlin. Production by Johan Seth with assistance from Isabel Wiklund. The artist gives special thanks to the staff of St. Mark's, Stockholm, and St. Peter's, Klippan.
The silence is presented at Boxen, in parallel with the exhibition Sigurd Lewerentz: architect of death and life.
Amie Siegel
Amie Siegel (born in 1974 in Chicago) works in a variety of ways in film, video, photography, sound, sculpture and installation. She is known for her meticulously constructed works that map out and execute value systems, examine the relationships between objects, materials and spaces, and expose the plasticity of the moving image through sound and performance. The artist's current and recent exhibitions include bloodlines, Scottish National Museum Gallery of Modern Art, Edinburgh (2022); 34th São Paulo Biennial, Brazil; (2021); medium cold, Blaffer Art Museum, Houston (2019); Winter, Guggenheim Museum Bilbao (2017); Strata, South London Gallery (2017), Double negativeVilla Stuck Museum, Munich (2016) and Ricochet, Kunstmuseum Stuttgart (2016). Siegel was a member of the DAAD Berliner-Künstlerprogramm and the Guggenheim Foundation and recipient of the 2021 Foundation for Contemporary Arts Award to Artists. She lives and works in New York.